Todd Sucherman: Exploring Every Angle With Styx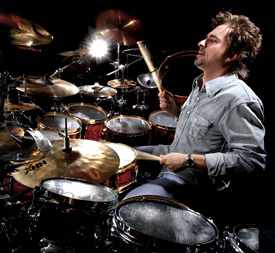 Styx is a band known for their over-the-top stage shows and epic chart-toppers like "Mr. Roboto," "Too Much Time On My Hands," "Come Sail Away," and "Babe." When original Styx drummer John Panozzo was unable to tour in 1996, Todd Sucherman filled in on drums. He became a full-time member of after Panozzo's death later that year, adding a unique presence to an already legendary act.
Sucherman has drumming in his genes. His father, Arnold, was the house drummer for Chicago club Chez Paree and played with Sammy Davis Jr., Liberace, and Lena Horne. In his October 2008 MD cover story, Sucherman credited his father with teaching him how to swing and play in time.
Todd's first paying gig was with the Sucherman Brothers, a band featuring his siblings Paul and Joel on keyboards and bass, respectively. Todd was six years old. After attending Berklee College Of Music, he returned to Chicago, where he established himself as a session musician. Advertisement
After connecting with Styx, Sucherman injected a more technical element into the band, perhaps most clearly witnessed on Styx's One With Everything DVD, featuring the band playing with a 171-piece orchestra. Sucherman's own well-received instructional DVD, Methods And Mechanics, showcases his mastery of odd time signatures and other advanced techniques.
Sucherman, who received top honors in the Rock category of Modern Drummer's 2009 Readers Poll, has continued to tour with Styx and work with other artists, including Spinal Tap, with whom he did a short tour in 2009.