Robb Rivera of Nonpoint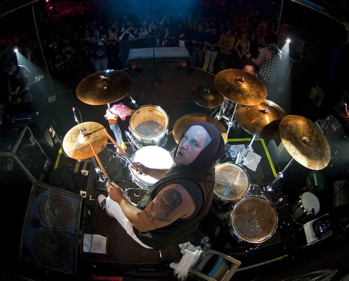 My name is Robb Rivera and I punish the drums for a South Florida band called Nonpoint. I first started playing drums at the age of nine and I was and dabbling on guitar as well. I began my love for drumming when my neighbor in the small town of Highland Bend, Ohio introduced me to Rush's All The World's A Stage. I heard Neil Peart's drum solo and I knew that I wanted to play drums. So after that I went to the kitchen and got all the pots and pans and started banging away. My parents were not too pleased when I dented the pots and they had to buy new ones. LOL!
My parents finally decided to get me a kit, so we ordered a cheap one from a Sears catalogue and I started banging away. The first song I learned to play was "I Love Rock And Roll" by Joan Jett & the Blackhearts. But that was not all I was listening to. I also listened to Van Halen, Styx, Journey, Cheap Trick, Boston, AC/DC, and many others of that era. Since I couldn't afford drum lessons, I listened and memorized the sounds of each drum part. What that allowed me to do was hear what each individual drum was doing so I could teach myself. So that is the way I learned to play drums.
I first saw a band play at a friend's birthday party. The band was called Cardinal Sin. They were a metal band from Puerto Rico. I was amazed to be that close to live music and I wanted to be a part of it. What really closed it out for me was seeing the reaction of the people that were there and everyone singing along. You could say that I was completely sold. Advertisement
Years passed and I was finally playing in my first band. Instead of playing the drums, though, I was playing guitar. I had always thought I wanted to play guitar and but fate had other plans for me. For some odd reason we never could find a drummer that could play in time, or they could play covers but couldn't play an original track to save their lives. The other guitarist that was in the band wanted to be the sole guitarist, so I said, "Well, I will play drums." We all chipped in and bought a cheap kit just so we could jam, and that is my drum career officially started.
I was still living in Puerto Rico and played the local scene there for a while. I joined a Christian thrash band called Sekel and got myself a Tama kit, and we took that island on a ride. We got to be quite a big band, because the island is not that big so it was easy to establish an amazing following. After Cardinal Sin, who were one of the bigger local bands at that point, moved to the U.S. to try to make a name for themselves, we decided to make that move as well. We all wanted to make music our career. Well, we made the move but it didn't quite work out the way we thought. We really struggled just to live in the city of Boston. After a few members left I decided to move back to the island to start fresh because the people who had been involved did not meet my expectations. The day after returning to Puerto Rico I started my vision for Nonpoint and waited until the right people got involved. No one really wanted to reach the goals I wanted to reach, so back to the U.S. I went. I landed in Florida and started looking for people immediately that were hungry and wanted to be in this for the long run.
In 1997 I found the people that would make what Nonpoint is today. After six albums and countless tours, I am still here doing what I love and could not be more thankful for the career I have chosen. Don't get me wrong, we have been through the ups and downs that most bands go through—four labels, two guitarists, two managers—and we have still managed to overcome every single situation that has been handed to us. My motto has been "Faith Under Adversity." It's how I have lived most of my life, and I translate it to my career. Advertisement
As for my influences, the drummers that I have looked up to are Neil Peart, Bill Ward, John Bonham, Stewart Copeland, Alex Van Halen, Eric Stevenson, and Danny Schuler. I have borrowed something from each of these drummers. I did not go out of my way to imitate these talented men, but little things that they do I incorporated in my style. I can't be more thankful about having been able to learn drums without any lessons.
I currently play Sonor drums, Sabian cymbals, Vater sticks, Tama hardware, Evans heads, and Remo kick pads.
I want to thank anyone that took time to read this little piece about me and my career, and also to Modern Drummer magazine for the chance for me to do this.
For more on Robb Rivera, go to www.nonpoint.com or www.myspace.com/nonpoint.