Ricc Sheridan of Earl Greyhound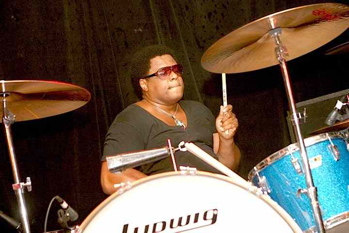 Greetings, drummers and percussionists around the world! First I would like to send love and blessings to you all, wherever you may be. I am deeply honored to be writing this blog for Modern Drummer. My name is Ricc Sheridan, and I'm the drummer/percussionist for Earl Greyhound. We are about to release our second CD, Suspicious Package, and we're currently on tour with metal magic makers Coheed And Cambria. This is especially exciting for me because not only do I love these guys and the wonderful music they make, but I also love Chris Pennie—God bless him! Chris is a wonderful person and an amazing drummer, and now my brother!
I love being on the road because it allows you a chance to reach people with your music, to share inspiration with fans, other drummers, and musicians, to work, and to grow in a musical setting, perfecting your skills and chops. It also allows you to build consistency. I'm one of those guys who truly likes to work and make progress, and touring allows you to work on things and better yourself every night—and I'm grateful for it.
I started playing when I was about three years old. My grandparents bought a kit for me—I'd been banging on everything from pot-and-pan formations to shoe boxes—and I loved that kit, but it didn't last long. At around six years old, my father bought a toy kit for me. I was angry about that, so I took it to the top of the stairs and trashed it. I thought he wasn't taking me serious, so I was hurt. Later he took me to a music store and got me my first Ludwig kit—blue sparkle! It was beautiful! He taught me how to handle his stereo equipment and extensive vinyl collection, and I started playing along with records. It was a whole new colorful world full of adventure and travel, and in one day I was trying to play jazz, funk, rock, soul, reggae, classical—whatever I could get my hands on. I was in love, and to this day I love being a drummer! I developed into a musician, listening, creating, writing, collaborating, recording, and playing live. Advertisement
There are so many drummers I've been influenced by…Ringo Starr, Airto, Lenny White, Elvin Jones, Billy Cobham, Bill Bruford, Brian Downey, Cozy Powell, Narada Michael Walden, Alphonse Mouzon, Mitch Mitchell, Buddy Miles, Steve Gadd, and a host of other amazing drummers. I've learned something from all of them, and I always try to keep my heart and mind open to absorb whatever I can. I truly believe drummers are like snowflakes: We are all the same but so different, and it's always so interesting to see how we all express ourselves and color our worlds. It thrills me to watch drummers—their cymbal choices and drum tones, their taste in fills, their stick choices…it's all so exciting.
I am a Ludwig drummer forever; my first kit was Ludwig and my last kit will be Ludwig. I play a setup that seems strange to most people; the kit I'm using on this tour is a 1970 blue sparkle with a 16×32 bass drum, 9×13, 10×14, and 12×15 mounted toms to the left of my bass drum, with an LP cowbell mounted on my bass drum. My 16×16 and 16×18 floor toms are tuned to a jazz sound, and the bass drum is deep and dark, which creates a beautiful contrast to my snare, which is a vintage 6 1/2×14 Black Beauty—clean, precise, and pristine; I consider it my sword. My cymbals are Paiste 2002s, which I consider the finest cymbals made—beautiful tones, highs and lows, wonderful gongs and sonic adventure possibilities. I use a 20", 22″, and 24" 2002 rides, and my hi-hats are two custom-made 17" heavy rides. I love my cymbal sounds, but they change with whatever my assignment may be or whatever I'm called on to play.
After our last show, I'll be taking my kit over to Main Drag Music in Williamsburg to my trusted friend John Fell—he does maintenance on my kit, and I trust him. If you're ever in Williamsburg, Brooklyn, stop in; he's awesome, knowledgeable, and quite friendly, and the store is full of beautiful drums and instruments, from vintage to new. Advertisement
Well, it's been an honor and a pleasure talking to you all. I send you all a bear hug and lots of love. Keep playing, and never give up! Love you all….
For more on Ricc and Earl Greyhound, go to www.myspace.com/earlgreyhound.