Fleetwood Mac's Founding Father: Mick Fleetwood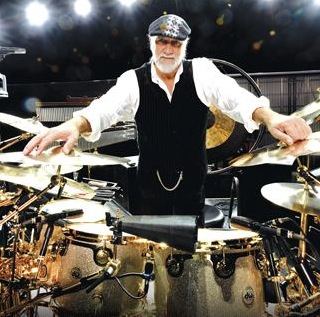 Since Fleetwood Mac's blues beginnings in London in 1967 straight through to their meteoric rise to the pinnacle of pop-stardom and beyond, Mick Fleetwood has been the band's rhythmic hypnotist, joining bassist John McVie to form one of the most legendary rhythm sections in rock history.
Fleetwood emerged from the London music scene, eventually pairing up with keyboardist Peter Bardens and Rod Stewart, forming the band Shotgun Express. After rubbing elbows with some of London's drumming and musical elite, Fleetwood hooked up with the first members of Fleetwood Mac—McVie and guitarist Peter Green—in John Mayall's Bluesbreakers. The rest of the story has been written in gold and platinum records.Aside from being Fleetwood Mac's timekeeper, founding father, and partial namesake, Fleetwood has kept the band rolling through the best and hardest of times. He was the band's de facto manager in its earliest days, drafting new members and replacing departed ones as if he was in charge of a sports franchise. Fleetwood truly became the glue that held the operation together in the '80s and '90s, especially when Nicks and guitarist Lindsey Buckingham temporarily left the band.
Through well over fifty years of drumming, Fleetwood has no intention of stepping on the brake any time soon. Fleetwood Mac toured for most of 2009 and the veteran plans to gig with his other bands—the Mick Fleetwood Blues Band and the Island Rumors Band, both formed with former Mac guitarist and vocalist Rick Vito—when Fleetwood Mac is off the road. Advertisement