Esthema's Bruno Esrubilsky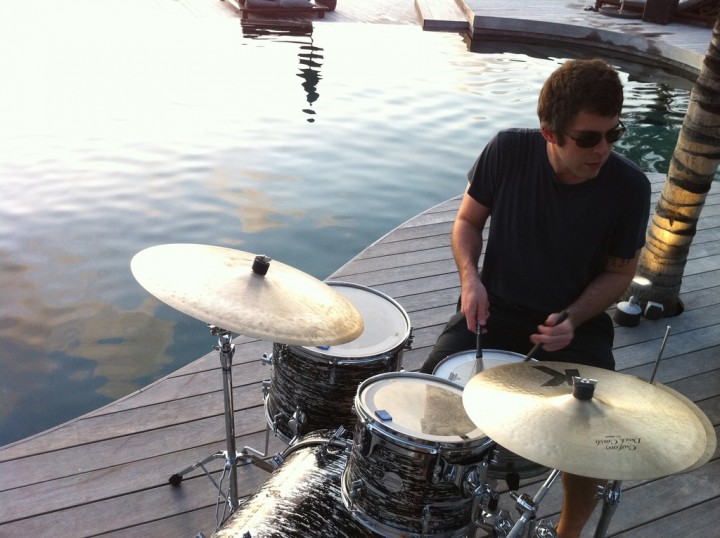 Modern Drummer Blog readers! My name is Bruno Esrubilsky, and I am a Brazilian drummer/percussionist living in the Boston area. I graduated in 2005 from the Los Angeles Music Academy and then in 2010 from Berklee College of Music with a professional music degree. I also received the 2010 Armand Zildjian Percussion Award.
I've been constantly performing and recording in the New England and New York areas with several groups, including Esthema, Ann Driscoll, Kris Roche, Zac Taylor, the Berklee Middle Eastern Fusion Ensemble, Alien Ant Farm bassist Tye Zamora, Tais Alvarenga, Steven Chelliah, and Nashville producer Mark Strubler. At Berklee I studied with Terri Lyne Carrington, Dave DiCenso, Ian Froman, Larry Finn, Casey Scheuerell, Jon Hazilla, and Steve Wilkes.
In April 2009 I had the pleasure of spending a whole week in the studio with master drummer John "JR" Robinson as part of his weeklong residence at Berklee. Last month I played at the South By Southwest Festival in Austin, Texas with Ann Driscoll and Kris Roche, and Ann Driscoll's band is going back in October to play the Austin City Limits festival. In September I will be touring Japan with Kris Roche and teaching Brazilian drumming at several Japanese schools. Advertisement
My past experience includes a European tour with Phonopop in 2006, recording two albums and touring Brazil with 3STEPS, recording Brazilian singer/actor Emilio Dantas' album Aqui, Onde Nao Estou, recording and performing in Argentina with VIA 77, performances in Brazil with techno bossa nova group S.I.M., and playing around California including recording for producer Philip Giffin. Recently I recorded Esthema's second album, The Hereness And Nowness Of Things, Tais Alvarenga's self titled EP, and at several sessions around Boston.
Thank you for reading, and keep in touch!
For more on Bruno Esrubilsky, go to www.brunodrums.com.