Sidney "Big Sid" Catlett: Busting Open Doors To The Modern Drumming Age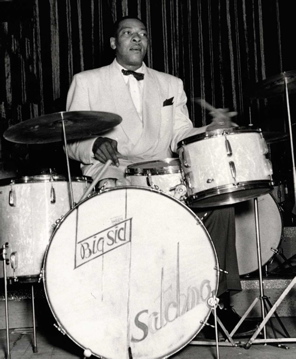 Though Big Sid Catlett came out of the swing era, he is best remembered for a drumming style that had a marked influence on the bop drummers of the '40s. Catlett bridged the gap between the two genres, and his recordings with Dizzy Gillespie and Charlie Parker made him one of the few drummers to survive the transition from swing to bop.
Catlett was born in Evansville, Indiana in 1910, and began his career in Chicago at sixteen. After coming to New York in 1930 with Sammy Stewart, he went on to work with McKinney's Cotton Pickers, Fletcher Henderson, Benny Carter, Don Redman, Rex Stewart, and Teddy Wilson. He spent 1938-42 with Louis Armstrong, and played with Benny Goodman's band for a short while in '41. A notable figure on the 52nd Street scene, Catlett performed with Ben Webster, Don Byas, and Lester Young, and is on countless record dates with other leading players. Winner of the Esquire Gold Award in 1944 and '45, he later returned to Armstrong's All Star band in 1947. The last years of his life were spent freelancing in Chicago, where he died in March of 1951.
Like Jo Jones, Sid Catlett influenced drummers primarily for his conceptual innovations and his contribution to the rhythm section as a whole. Acclaimed for his remarkably steady timekeeping, Catlett was a functional player who believed his primary task was to integrate the rhythm section into the work of the entire group. Though influenced early on by Zutty Singleton's military flavor, Catlett developed a linearity that had not been heard before. An incredibly adaptable drummer, he was at home in small groups or big bands, New Orleans style to bop. Advertisement
Though more of a low-profile player than his contemporaries, Catlett could be a great showman, and he had outstanding technical ability. However, his key motivation was the music. The epitome of grace and beauty, his playing was firm, supportive, and extremely tasteful, with a great sense of form and structure. His solos were explorations of themes and variations, where melodic opening statements were set up, repeated, and then embellished. These ingeniously structured solos exemplified Catlett's keen sense of dynamics, humor, and surprise, beginning at times at thunderous levels and ending at delicate pianissimos. His bass drum explosions echoed in the early work of the modernists, and his hi-hat style helped popularize the instrument as a primary timekeeping device.
Acknowledged as an important pivotal player, Big Sid would have a direct impact on the drumming of Max Roach, Art Blakey, Shelly Manne, Stan Levey, and Ed Shaughnessy. An inspired performer, Big Sid Catlett is considered one of the most important drummers who ever lived.