The Greats: Jim Keltner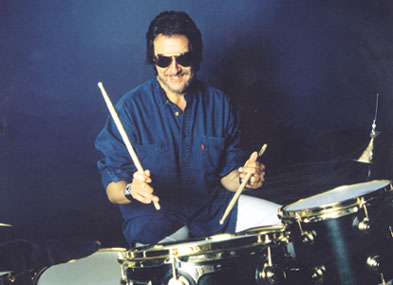 Jim Keltner is inarguably a true studio drum god. Highly regarded for his session work on solo recordings by three of the Beatles, Jim could also be considered a close life-long friend of George Harrison, John Lennon, and Ringo Starr.
Jim met Ringo in 1971, during preparations for George Harrison's Concert For Bangladesh, on which he and Ringo shared drum duties. Keltner later toured with Ringo Starr's All-Starr Band, and, along with Harrison, Tom Petty, Bob Dylan, Roy Orbison, and Jeff Lynne, was a member of '80s supergroup the Traveling Wilburys—playing under the pseudonym Buster Sidebury.
Keltner was born on April 27, 1942 in Tulsa, Oklahoma. Though his early drumming experience was focused on playing jazz, one of his first claims to fame was with '60s pop outfit Gary Lewis & the Playboys. When Jim joined Joe Cocker's Mad Dogs & Englishmen outfit, his reputation as an official member of rock's royal circle was sealed, and soon he was recording seminal albums with Beatles Lennon, Harrison, and Starr. Since then, Keltner has put his uniquely reliable stamp on hundreds of important releases. Among them are albums by Eric Clapton, Carly Simon, Bob Dylan, Joni Mitchell, Brian Wilson, Bill Frisell, Neil Young, John Hiatt, Fiona Apple, Yoko Ono, Gary Wright, Elvis Costello, James Taylor, B.B. King, Sheryl Crow, Little Village, the Bee Gees, Ry Cooder, Steely Dan, Rufus Wainwright, Tom Petty, Steve Miller, and Lucinda Williams.
Jim has been a huge influence on countless top drummers, who worship his simple but magical performances and casual but precise feel. Keltner is equally famous because of his enthusiasm for unusual sounds: He's been known to play with kitchen utensils and rattling chains, and his embrace of electronics has widened his sound palette even further.
A studio legend who never stops looking forward, Keltner has been involved with some truly inventive recordings, such as his 2000 collaboration with his close friend, Rolling Stone drummer Charlie Watts. The Charlie Watts/Jim Keltner Project featured the duo exploring multi-percussion, electronics, and unusual orchestrations in the service of a tribute album to jazz drumming heroes. Other highlights of the new century include The Concert For George, which paid tribute to the late Beatle guitarist; Simon & Garfunkel's Old Friends reunion tour; Jerry Lee Lewis's 2006 album, Last Man Standing; and recent releases by Phish bassist Page McConnell, pop chanteuse Celine Dion, soul singer Mavis Staples, and guitarist and long-time Keltner collaborator Ry Cooder.
With no let-up in his schedule in sight, Jim Keltner is that rare music legend who is as vital today as he was when he first made his mark, all those years ago.