Dennis Chambers: Fiercely Comin' At You From Multiple Directions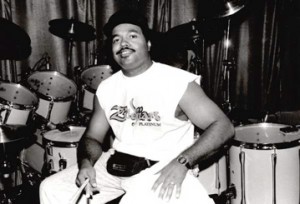 Dennis Chambers was born on May 9, 1959, and started playing the drums at the young age of four. By his sixth birthday he was already playing in nightclubs. Strictly self-taught, at the age of eighteen Dennis went straight from high school to playing with George Clinton's Parliament Funkadelic, where he stayed in the drum chair until 1985, when he joined the band Special EFX. From there he's gone on to play with David Sanborn, John Scofield, Bill Evans, Mike Urbaniak, George Duke, Stanley Clarke, John McLaughlin, Mike Stern, Steve Kahn, the Brecker Brothers Band, and many other fusion masters.
One of the most revered technicians ever to pick up the sticks, Chambers has turned heads for nearly thirty years with his remarkable stick speed, rhythmic agility, dynamic approach, playful placement of backbeats, ambidextrous abilities, blazing bass drum work, and propensity to throw out sophisticated rhythmic concepts with one or two limbs while killing the groove with the others. Saxophone legend Mike Brecker put it this way: "Dennis is a well-rounded musician, and a very quick study. He's dedicated, and just a great drummer in every way. He's very powerful, but musical at the same time."
When asked about some of his influences, Dennis told Modern Drummer, "Billy Cobham, Tony Williams, Jack DeJohnette, Elvin Jones, all the guys—that was a pass-down from them to me. I also like Alex Acuña, Sheila E, and Buddy Rich." Advertisement
One of the most exciting and dynamic drummers of all time, Dennis recently received an honorary doctorate from Berklee College of Music. These days he's touring with legendary guitarist Carlos Santana's band, a position he's held since 2002.