Bill Bruford – On A Never-Ending Quest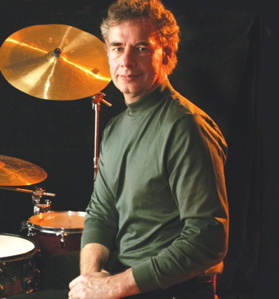 "I don't want to be bored. I haven't got time to be bored. If I ever bore myself consistently for a year, I'll give up being a musician. I would lose my self-confidence—the feeling that I really do have something to give." It's no surprise to read that comment from Bill Bruford, one of the most prolific, thought-provoking, and downright creative drummers ever to pick up sticks.
Bruford has spent most of his playing career on a never-ending quest for new musical vistas. Thrilling audiences occasionally with over-the-top playing, but more importantly with brilliant, revolutionary new directions in drumming, Bruford is as intriguing to his fans today as he was forty years ago, when he first came to prominence as the drummer in progressive rock's most famous group, Yes.
This constant quest makes Bruford's playing a bit hard to pigeonhole. Is he a rock drummer? Well, his precise and innovative work with Yes might give you that impression. But maybe it's more accurate to call him an avant-garde drummer: His groundbreaking, left-of-the-dial creations with King Crimson would certainly support that idea. But then there was a period in the '80s when Bruford, using a supercharged electronic drumkit, simultaneously provided the melody and rhythm for his own group, Earthworks, suggesting more of a tuned percussionist's role. And his recent work in Earthworks is undoubtedly that of an acoustic-loving jazz drummer–with a twist, of course. Advertisement
Bruford released his much buzzed about autobiography in 2009, and "officially" retired from performing, though one hopes the decision isn't final. There's no other living drummer quite like him.