We Are The In Crowd's Rob Chianelli Blog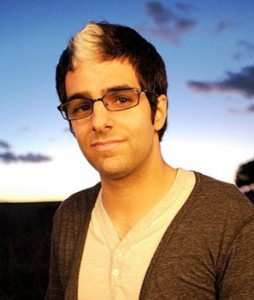 What's up, Modern Drummer readers? My name is Rob Chianelli, and I'm twenty-two years old and play drums in a pop/rock band called We Are The In Crowd. I decided to try playing drums when I was a sophomore in high school because the band I was in was having a hard time finding a dedicated drummer. Being a guitar player at the time, I thought, There are plenty of kids in school that play guitar. Why don't I try playing drums? So I gave it a shot. My dad was generous enough to buy me a Pearl Export series kit, and I taught myself how to play by watching other drummers and by practicing every day. I'm pretty much an addict, but I never thought "giving it a shot" would lead me to writing a blog for Modern Drummer.
It's funny how things work out. I moved to Poughkeepsie, New York, from East Lyme, Connecticut, when I was thirteen years old, and I met Jordan Eckes in math class. Jordan and I became inseparable friends pretty much after the first day of hanging out at his house. He turned on "Hit Or Miss" by New Found Glory and asked if I could play it. I think that was the turning moment in my life where I knew Jordan and I would be playing music together for a long, long time.
When I first switched from guitar to drums, we shared a few years of "my first band" syndrome, but we quickly learned each other's styles and progressed rapidly. Recording and playing shows became a weekly routine for us. We spent a few years of trial and error with a bunch of different bands. Finally, Jordan and I share the stage with Mike Ferri, Taylor Jardine, and Cameron Hurley in We Are The In Crowd, and we recently signed on to the Hopeless Records family.
If I have any advice for first-time drummers, it would be to find a way to record the songs you write as often as possible. The best way to get tight is to play to a metronome or even play along to your favorite songs on your iPod. Once you master staying on time with the click, you will be one step ahead of everyone else. For me, watching my favorite drummers has helped me learn a lot of new things. Every drummer has his or her own style, so it's always good to see how someone else does it. A few drummers that I have been inspired by lately are Joe Greenetz from Sherwood and Ryan Pope of the Get Up Kids. Their particular styles are unique, and I play along to all their albums to practice. I personally think that jamming with a guitarist or bassist as often as possible helps you understand how drums can match up with the music and become the backbone of the song.
I don't usually practice alone, because I enjoy having the bass matching up perfectly with my bass drum. It gives playing drums a more powerful, solid feeling. When I do practice alone, it's usually just me getting my iPod and jamming out a few of my favorite songs.
Thank you for taking the time to read my blog! Keep jamming, play with confidence, and always be committed to your drum playing, because you never know where it can take you.

For more on We Are The In Crowd, visit www.myspace.com/wearetheincrowd.