Ray Luzier: Getting Inside The Music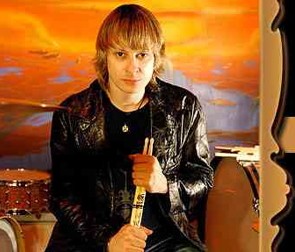 To Ray Luzier, Korn's drummer and newest member, playing with legends is nothing he hadn't done before. The Musicians Institute grad and PIT instructor earned the full-time Korn gig in 2007. A number of familiar names had sat in with the multiplatinum nu-metal group after original drummer David Silveria's 2006 departure, including Terry Bozzio, Bad Religion drummer Brooks Wackerman, and Slipknot's Joey Jordison. Luzier, though, was no sit-in. He floored guitarist Munky and bassist Fieldy during his audition. Not only did he learn the band's songs verbatim—more than thirty of them, in fact—he also played the live versions of the tunes spot on.
"I really wanted to get inside the music," Luzier says. "David Silveria and I are really different players. I respect the heaviness that he brought and the ideas that he had, and even though I don't play just like him, I wanted to bring those things to the table and get the grooves to lay back."
Ray is no stranger to playing in front of thousands of people around the world on a nightly basis. His résumé is stacked with the likes of all-out rockers such as Billy Sheehan, Jake E. Lee, and Steve Vai. Before Korn, the drummer played with David Lee Roth for eight years. After his stint with the former Van Halen singer, he joined up with Stone Temple Pilots bassist and guitarist Robert and Dean DeLeo and Filter lead singer Richard Patrick in the band Army Of Anyone. Advertisement
When AOE didn't pan out as well as its members had hoped and Korn went through some changes of its own, Luzier stepped in and put the thunder back into a band that had already perfected the art of heavy, a band that's sure to continue shaking the metal scene to its bones—especially with a powerhouse like Luzier on board.