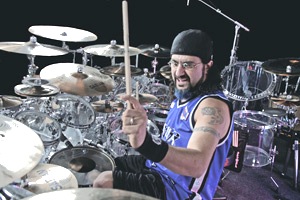 Mike Portnoy is considered one of the finest prog-rock drummers in the history of the genre, much of it due to his ground-breaking work in Dream Theater. "I couldn't have dreamt of a better scenario for the path that we traveled," said Portnoy in a 2002 Modern Drummer magazine interview. "When we first got together at Berklee, we just wanted to make music for the fun of it. We weren't thinking about record contracts, tours, videos, marketing, or radio air-play. We were just college kids who were into Iron Maiden and Rush and who wanted to make some cool, heavy progressive music. We became so immersed in the music that it became our lifeblood, and we decided to pursue it as a career. Between then and now it's been a dream come true. We're very proud of what we've accomplished."
When Dream Theater emerged in the late '80s, listeners were shocked at their audacity. Ten-minute (or longer) songs, mind-spinning arrangements, odd time signatures, extended solos, tremendous chops—every excess in the book. Fans of prog-rock cheered. And Portnoy, seated high atop his massive double bass kit, was more than a match for the band's brand of musical karate. His creative and spirited playing tantalized drummers worldwide.
Twenty-five years later, Mike Portnoy hasn't lost any of his prog-rock fire. In fact, he's still considered one of the most over-the-top—and hardest-working—drummers on the scene today. He's made over fifty recordings and filmed over twenty-five videos, many with Dream Theater, and several with side projects that stretched the drummer musically in many ways.
In 2004, Portnoy was overwhelmingly voted by readers into Modern Drummer magazine's Hall Of Fame, the most prestigious international award given to drummers. Anyone skeptical of that honor being bestowed upon a relatively young player might want to take a closer look at Portnoy's track record in the business and his contributions to the drumming community.
Mike has won an unprecedented twenty-three MD Readers Poll awards, including several in the coveted best-recorded performance category. As MD writer Mike Haid stated in his 2007 cover story on the star drummer, "Portnoy doesn't claim to be the fastest gun in the West—although his technique is still impressive by any measure. He's not interested in technical drumming achievements. His primary concern is to serve the music. Of course, the music he likes to serve is generally exciting, energetic, and prog-based. Portnoy creates his art with an ever-expanding appreciation, experimentation, and incorporation of all musical styles into his drumming. This is the true essence of a great prog drummer."