J.C. Heard: One Of The Busiest, Swingin'-est Drummers Of Classic Jazz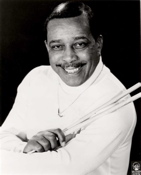 J.C. Heard was born in Detroit in 1917, and started out as a tap dancer. He taught himself drums at age eleven, and two years later he was working with local bands. Heard's break into the big time came in 1938 as a member of Teddy Wilson's band, formed shortly after Wilson departed from the Benny Goodman band. After the breakup of Wilson's band, J.C. worked with bands led by Benny Carter, Louis Jordan, Count Basie, Louis Armstrong, and Benny Goodman, and performed on live radio broadcasts from New York's Savoy Ballroom with Coleman Hawkins, Cab Calloway, and Woody Herman.
During the '40s, Heard appeared in several Hollywood films including Stormy Weather and Boogie Woogie's Dream, and in 1946 he received Esquire magazine's prestigious Drummer Of The Year award. He worked with Erroll Garner at The Three Dueces in '48, and later joined Norman Granz's Jazz At The Philharmonic, where he toured the United States and Japan. Heard also fronted his own quartet in Los Angeles, New York, and Las Vegas, played with jazz luminaries Roy Eldridge, Dizzy Gillespie, and Charlie Parker, and made appearances at most of the major European jazz festivals.
Heard was one of the jazz world's more personable figures, and is recognized for his masterful timekeeping and brilliant solo work. "Unless you know how to phrase, unless you have some ideas about presence, conception, and attitude, then your solos are just going to be a bunch of noise," said Heard.
In great demand throughout his career, Heard is reportedly on over 1,100 albums with various performers including Charles Mingus, Ray Brown, Charlie Parker, Billie Holiday, Ray Charles, Nat King Cole, Dinah Washington, and Sarah Vaughn. J.C. Heard reflected on his diversified and productive career in a 1988 MD interview: "In those days, if you couldn't play in a big band, they would write you off. It was different than it is now. I made my name as a big band drummer, as did Sid Catlett and Papa Jo, even though we all also worked with small combos. You had to do it all—and learn it all—to be good."