Social Code's Ben Shillabeer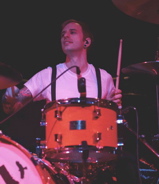 Hey there, everybody, this is Ben Shillabeer from the band Social Code, and I'm writing this blog, coincidentally enough, on the twentieth anniversary of getting my first drumkit! During the last twenty years, I've learned so much about music, drumming, and recording and even more about people than I thought was possible.
I started playing in a Scottish marching band as a teenager, where I learned all my rudiments. Although I haven't played that style of music in quite some time, I still come back to it for inspiration. It's so dynamic and emotional. When I started focusing on rock drumming, all I thought about was being like Tommy Lee (minus the extracurricular activities). I used to play along to Mötley's "Shout At The Devil" for hours. That album is great for building solid time, because it's a very four-on-the-floor record—like a metronome with loud guitars!
Then one day, one of my instructors asked me, "Have you ever heard of Steely Dan"? I said no. He said that if I wanted to be good at playing the drums, I should listen to Aja by Steely Dan. So I got the disc, and it blew me away! Anyone who knows anything about musicianship knows what I'm talking about. Advertisement
I started playing in cover bands when I was sixteen, which is still something I do on occasion. I went on to college, where I studied jazz music, which was great because I met so many people and learned plenty about my playing as well. Who would have guessed that after years of playing to Mötley Crüe and Guns N' Roses, my brushwork would be top of the class? During my college years I played in a metal-funk outfit where my best friend (still to this day) and I did our best 311 and Primus impressions—and it worked out. But eventually the band lost the singer, and, yadda-yadda-yadda, as it turned out, I ended up joining the band whose singer we tried to steal months prior to the breakup, and that band turned into Social Code. Two weeks after I joined, we were in Vancouver doing demos, and four months after, we signed to Interscope and were living in Los Angeles. Three albums and countless shows later, it looks like 2010 is going to be the best year for my band and me.
My styles right now are still very rock influenced—John Bonham, Dave Grohl, Tommy Lee, Taylor Hawkins, Travis Barker, Josh Freese, and countless others. Of course I know of all the cats that everyone talks about, but I always end up going back to these rock guys for influence. Whenever I feel tired during a gig and sort of want to wuss out on a big fill, I always think, Would Josh Freese wuss out? No! Then I just slam it home, ya know! Speaking of Josh Freese, have you ever watched those little movies he makes on YouTube? I love it!
As far as gear goes, I play Sabian cymbals and Pro-Mark drumsticks exclusively. I feel these companies have the best products out there today that give me exactly what I'm looking for night after night. I couldn't see myself playing anything else. Advertisement
Well, that's all for now. Thanks, and let's chat soon!
For more, visit www.myspace.com/socialcode and
www.socialcodemusic.com.