Sonny Greer: Duke Ellington's Crowd Pleaser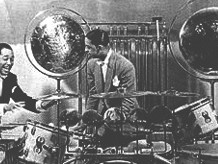 Sonny Greer was born in 1903 in Long Branch, New Jersey, and studied drums with vaudeville drummer J. Rosemond Johnson. His first professional job was as a youngster in a pit band in Red Bank, New Jersey. Within a few years he was working in the pit orchestra at the Plaza Hotel in Asbury Park. While at the Plaza, Greer met Duke Ellington and the two began performing together in Ellington's hometown of Washington, D.C. It was the beginning of an association that ran from 1923 to 1951.
"Sonny knew what audiences liked," said Mercer Ellington. "He was one of the few people from whom Duke readily took advice. A great reactor to material, he needed only a skeleton of an idea. With that as a base, he'd contribute a great deal to the glory of a work. Sonny had a great ear and unusual reflexes."
Greer's stay with the Ellington band reached a pinnacle during their years at New York's legendary Cotton Club. A distinctive, musical drummer, Greer was noted for his elaborate drumset, which was so impressive, special mention of it was made in Jim Haskin's book The Cotton Club: "Greer and his drums provided the focus of the band's music. He had an incredible battery of percussion equipment, everything from tom-toms to snare and kettle drums. And once he realized the band was at the club to stay a while, he brought in the really good stuff." Advertisement
Along with being a great showman, Greer was acknowledged for his natural ability and excellent musical instincts. He was even known to use timpani heads on his bass drum so the drum could be tuned to a precise pitch. Greer has also been credited as being an important part of the character of the Ellington orchestra during its heyday. Sonny Greer passed away in 1982 at the age of seventy-nine.