Gorden Campbell: Blog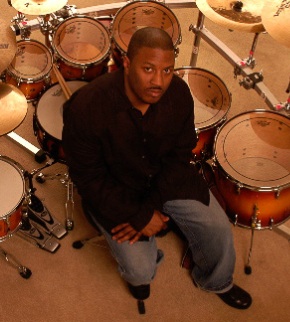 Wassup, MD readers! I hope this blog finds all of you doing well! My name is Gorden Campbell and I live in Los Angeles, California. I grew up in a small city just north of Manhattan called Newburgh, N.Y. Newburgh is where I got my start playing the drums at my grandfather's church. Since then, I've been blessed to have worked with artists such as Earth, Wind & Fire, George Duke, Whitney Houston, Jessica Simpson, Mary J. Blige, Jamie Foxx, 50 Cent, and Ne-Yo, to name a few.
Although 2009 was a pretty hard year for everyone (including me!), I managed to do a few really fun and exciting gigs. January through March I toured with Jessica Simpson (where I was the musical director). We were on tour with Rascal Flatts, and that was fun. The guys from the Flatts band are great! After the tour I did dates with Wayne Brady, Toni Braxton, George Duke, Chrisette Michele, and a few more artists who I can't remember (I'm getting old—LOL!) In June I was in the house band for the 2009 BET Awards. We had to learn about thirty songs for that show. Then unfortunately Michael Jackson passed away. So they added about ten more songs to the list to honor "The King of Pop." On the show we played with Mary Mary, New Edition, Keyshia Cole, Guy, BBD, the O'Jays, Tyrese, and Monica. Besides gigging, I've been doing a lot of clinics too. I love to teach and give the knowledge that I have to other musicians.
Also, I got together with Teddy Campbell, Gerald Heyward, Marvin McQuitty, Aaron Spears, and Nisan Stewart to form a new company called Rhythm Alliance. Our goal is to bring awareness to the music industry, particularly drumming, by performing at drum festivals, doing clinics, giving away scholarships, and giving back to the community. We're putting together a show that will be entertaining but that will also teach musicians how to make a living (long term) in the music business. If you'd like to book us for a show or just check us out, go to www.therhythmalliance.com. Advertisement
Most recently, I played in the house band for the BET Honors awards in Washington, D.C. The show honored P. Diddy, Whitney Houston, Queen Latifah, Dr. Ruth J. Simmons, and Keith Black M.D. It was a great night! We played with Stevie Wonder, Take 6, Patti LaBelle, India.Arie, Kim Burrell, Jazmine Sullivan, and Trey Songz. If you want to catch the show, it airs February 1 on BET.
If you're in the L.A. area, you can catch my group the E&G Band at Café Cordiale in Sherman Oaks once a month. If you'd like to contact or keep up with me, go to www.gordencampbell.com.
Peace and blessings!