Bobby Rosengarden: The Stylish Rhythm Of TV's Golden Age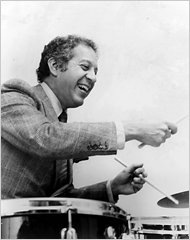 Bobby Rosengarden was a well-traveled and well-recorded drummer whose career spanned the '40s, '50s, '60s, and '70s and included work with musical giants such as Duke Ellington, Miles Davis, Tony Bennett, Stan Getz, Benny Goodman, and Astrud Gilberto. But Rosengarden is perhaps best remembered for his work on the variety shows of TV's golden age, including those hosted by Steve Allen, Johnny Carson, and Dick Cavett. He is also regarded as one of the most tasteful and swinging players of the era, rarely taking the lead with flash, á la his peers Louie Bellson, Buddy Rich, and Gene Krupa, but always stylishly and reliably supporting the mood and energy of a staggering variety of musical situations.
Rosengarden was born in Elgin, Illinois, in 1924 and started playing drums as a teenager. He studied under famed Chicago drum teacher Roy Knapp, attended the University Of Michigan under a music scholarship, and during World War II played in an Army Air Corps band. After the war, the drummer began his hugely successful career as a session player in New York City, which was home to the top TV variety shows of the day. Rosengarden was a longtime member of the NBC Orchestra and, under conductor Arturo Toscanini, the NBC Symphony Orchestra. In 1968 he became the bandleader on The Dick Cavett Show. In the early '70s, as the major networks began to move their operations to L.A., Rosengarden chose to stay on the East Coast, but he continued playing with jazz luminaries such as Gerry Mulligan and kept leading his own orchestra at the Rainbow Room in Manhattan. He also led a few recording dates, including 1965's Percussion: Playful And Pretty. Rosengarden died in 2007 at the age of eighty-two.