Yael: DrumAddict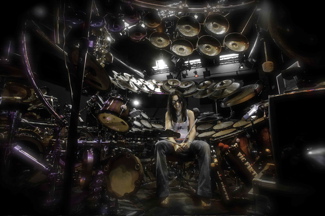 Hello, modern drum addicts! First off, it's an honor to be asked to do a piece for Modern Drummer online, and I hope to get to the point where I will finally have my mug in the mag next to my own feature. Thank you, MD, for years of stories that have affected who I am today.
For those of you that don't know me, my name is Yael (Ya'elle). I have incorporated, and I own the name DrumAddict legally. It's a fitting description of my character.
I picked a shot from one of my documented weekends with Terry Bozzio where I got to record on his kit and on his infamous "Barney" percussion rig. I've looked up to him for so many years. I have his autograph on a picture from '93 that I put in the DW DVD I just completed, The Love Project Journey, after four years with the most blessed crew I could have ever wished for. Fifteen years after getting that autograph I'm jamming with my undeniably talented buddies and the man himself—humble as ever. It's just a monumental time in my life.
I have had a love for drums and rhythm and patterns for as long as I can remember. I made a little name for myself in New York City straight out of high school playing some double kick heavy rock with an all-girl band called Meanstreak. We opened for bands like Motörhead, Maiden, Anthrax, King Diamond, etc. Although I grew up in a house that listened to way more world music and Stevie Wonder in the background, I loved the release of big, loud drums resonating through my feet to my head. Those years have a lot of sweet memories and are proof of how the world goes round. I went on to get an audio engineering degree in college. Several years later I moved into "finding the 1" with one 20″ kick drum, micro-hats, and a punchy 12″ snare—just laying into the groove, as Bonham will always be my favorite of all pounders. Advertisement
I partnered up with a producer and hip-hop artist, and we hit the Buddha Bar–vibe clubs and ended up playing in Morocco—where I got my paws on so many little drums, I was in heaven. I got back to NYC, played with the band Tung and recorded a ton of experimental stuff "after hours" at the Jamaica Music Building (RIP), which is exactly what I'm doing now; it has come full circle with my lifelong friend and partner in the crime of music loving, Nik Chinboukas.
In the in-between years, Nik was signed to Sony with Collision and did his own touring. Eventually I moved to L.A., toured Europe, the U.K., and the U.S. several times with the Creins, My Ruin, and Fireball Ministry. I went on to play on several records Nik produced—from super-heavy and fast to smooth backbeats to jungle setups. I have gone into many styles on gigs and albums and tours, from Talib Kweli's Miller tour with Res laying down the funk to George Lynch and Chris Caffery's stamp of rock guitar-hero-type drumming on their solo debuts to working prepro in NYC and L.A. with Tom Morello for the band Outernational.
My setups change according to the style I need with the artists I'm working with. I recently played two Drum Channel live shows with Ray Luzier and Terry Bozzio—all improv. Your best bet as a drummer is to be a good listener in those situations and, of course, to practice! Advertisement
In '05, I decided with Nik and Yury Anisonyan (my East Coast and West Coast producers), along with Scott D, my guru, and DW to make a film about my own record and stories. We went through so many highs and lows that I lost count. Now approaching 2010, we are finally here! It is now the soundtrack of our lives. And I'm in love with it. We are in consideration for film festivals in 2010.
I produced, edited, and directed the CD/DVD with musicians from around the globe that I've met through the same passions—music and film. We connected and recorded nonstop for years and handpicked the best stuff. We did it for us, and it just grew into a journey we never imagined. Musical guests include Alex Skolnick, Roy Mayorga, Terry Bozzio, Sasha Lazard, Dave Eggar, Lucia Micarelli, Yury Anisonyan, Jay Sustain, Toni Ridley, George Lynch on sitar…and it goes on. The Love Project Journey is available for preorder, and included is an EP with a hidden Skolnick track as well. The full album is done and looking for a home!
All we have is now, so make it count. Thank you to DW, Sabian, Vic Firth, Remo, and Modern Drummer.
For more info, visit www.drumaddict.net.