Sugar Hill's Clarence Alonzo Oliver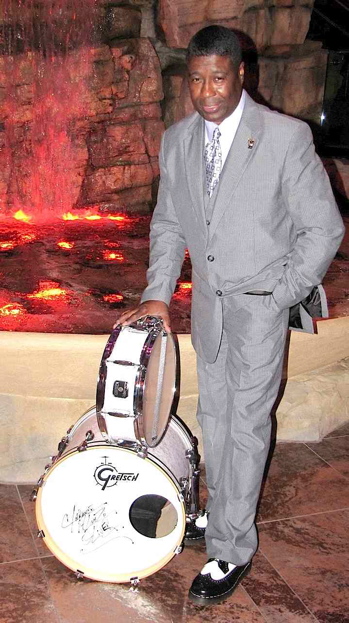 Hello to all the modern drummers around the world! For those of you who don't know of me, I got my first big break as the touring drummer for the famous vocal group the Moments, aka Ray, Goodman & Brown. They were signed to All Platinum/Chess/Sugar Hill records. In the beginning, as the studio drummer I shared the throne with the now late, great Yogi Horton. Yogi moved on, and I secured the top spot as studio drummer for All Platinum/Chess/Sugar Hill.
Here's how that came together. Jeroline Morris was the guitarist for the famous female R&B group the Sweet Inspirations, who were the opening act for Elvis Presley. When off the road, Jeroline also sat in with my group the Creations—and in turn she referred me for an open spot in her brother's hit group, the Moments. Walter Morris, an award-winning multi-gold songwriter and MD for the Moments, in partnership with Al Goodman, Harry Ray, and Billy Brown, then contacted me to be the touring drummer for the group. That opened other doors for me as a record producer with queen of rap/hip-hop Sylvia Robinson, her husband, Joe Robinson, and their record label, All Platinum/Chess/Sugar Hill. I was signed as a recording artist under the name the Rimshots.
Currently I'm working every week in the Poconos of Pennsylvania, which now has gambling casinos. I signed on as an artist with the Mount Airy Casino Resort. My group the CJT Band performs on the Glass Bar stage, on the casino floor. We cover jazz, R&B, Motown, swing, Latin, and rock 'n' roll. The CJT Band (with me on drums, lead vocals, and dancing; Jonathan Williams on bass, vocals, and dancing; and Tom O'Lear on keyboards and lead vocals) has performed on stages with Regis Philbin, Aretha Franklin, and former Vice President Al Gore. I have been very blessed to have played with many other artists, such as multi-gold recording artist Jack McDuff and double-platinum sax great Najee. I have also shared the stage with such legendary artists as Whitney Houston, Chaka Khan, Aretha Franklin, James Brown, Michael Jackson, the Jacksons, Gladys Knight & the Pips, Cameo, Freddie Jackson, and Earth, Wind & Fire. I have had the honor of recording with Hall Of Fame artists like Etta James, the Dells, Hank Ballard, Solomon Burke, and Grandmaster Flash. Advertisement
So, to all the modern drummers around the world, hold on to your dream, and never, ever give up on it, because a big break can come from anywhere. And never say never! Thank you so much for the read, God bless you all, and keep the beat alive!

For more, check out www.myspace.com/clarenceoliver and www.facebook.com/clarenceoliver.