Chick Webb: The First True Drumming Idol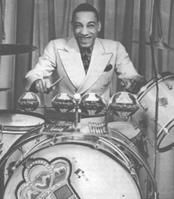 Chick was born in Baltimore, Maryland on February 10, 1907. He suffered from tuberculosis of the spine, which left him badly crippled. It wasn't until he underwent a painful operation as a child that he was able to use his feet.
Ironically, it was this childhood trauma that inevitably led Webb towards a life in music. At the suggestion of his doctor, Chick took up the drums in an effort to strengthen and loosen his underdeveloped limbs. Soon after, young Webb made his first professional gig—at age eleven.
As a teenager, Webb hooked up with local jazz band Jazzola Orchestra. In 1924, when one of that band's members decided to relocate to New York, Webb also made the move. During his first few years in the Big Apple, Chick sat in at sessions with many of the city's biggest stars, including saxophonists Johnny Hodges and Benny Carter and pianist/composer Duke Ellington. In 1926, the drummer formed his first band and began performing at various NYC jazz clubs, including Black Bottom, Roseland, The Cotton Club, and the Strand Roof. As the '20s came to a close, Webb's band—dubbed The Harlem Stompers—gradually picked up more members, eventually growing into a full-size eleven-piece big band.
In 1931, Webb and his band, which was now known as The Chick Webb Orchestra, began what would become a four-year stint at legendary Harlem hotspot the Savoy Ballroom. During this tenure, Webb's dynamic big band became the talk of the town, attracting dozens of dancers, jazz fanatics, and awe-struck musicians looking to figure out what it meant to really swing. Fellow big band leaders, including swing royals Benny Goodman (with Gene Krupa on drums) and Count Basie (with Jo Jones on drums), also brought their bands into the Savoy for friendly "Battle Of The Bands" competitions. But the power of The Chick Webb Orchestra could not be defeated, leaving the drummer to be forever acknowledged as "King Of The Savoy."
In 1935, Webb discovered a rising young talent, seventeen-year-old singer Ella Fitzgerald, and invited her to join his orchestra. From then until the drummer's death in 1939, Webb's band continued to gain momentum with such jazz hits as "A-Tisket A-Tasket" and "Stompin' At The Savoy."
Chick Webb simultaneously defined drumming during the swing era, while also paving the way for the "modern" jazz movement of the 1940s. His amazing technique, syncopated phrasing, and dazzling showmanship made him the idol of many drumming greats, including Gene Krupa, Buddy Rich, Art Blakey, and Max Roach.