Buddy Rich: The World's Greatest Drummer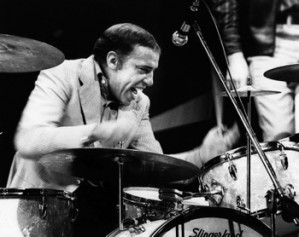 Buddy Rich has been called the greatest jazz drummer of all time—a statement that few would argue with.
Buddy was born on September 30, 1917, and his drumming career spanned seven decades, beginning when he was just eighteen months old and continuing until his death on April 2, 1987. Naturally gifted, Buddy was said to have never taken formal lessons, and his only practice was when he played live.
In 1937 Buddy began playing with Joe Marsala; two years later, his career kicked into high gear when he joined Tommy Dorsey's band. Buddy later went on to play with such jazz greats as Dizzy Gillespie, Charlie Ventura, and Louis Armstrong. He also appeared in Hollywood films like Symphony Of Swing (1939), Ship Ahoy (1942), and How's About It (1943).
Throughout the 1960s and '70s, Rich toured with his own band and opened two nightclubs, Buddy's Place and Buddy's Place II. Known for his offbeat humor, Rich was a favorite on several television talk shows, including The Tonight Show with Johnny Carson. His countless recordings include the legendary ten-minute "West Side Story" medley. Advertisement
Rich died of heart failure in April '87, following surgery for a malignant brain tumor. Longtime friend Frank Sinatra delivered a touching eulogy at his funeral.
Today Buddy Rich is remembered as one of history's greatest musicians. According to another great jazz drumming legend, Gene Krupa, Rich was "the greatest drummer ever to have drawn breath."