The Greats: Art Blakey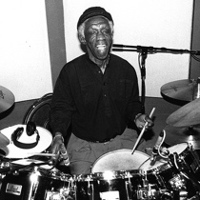 The origins of Blakey's hard-swinging style can be traced back to his early years as the drummer in Fletcher Henderson's big band, as well as his three-year tenure in the mid-'40s with Billy Eckstine's experimental large bop band (featuring future superstars Dexter Gordon, Dizzy Gillespie, Charlie Parker, Fats Navarro, Miles Davis, and Sarah Vaughan). In both of those settings, drive and feel took precedence over speed and flash. Blakey never gave up that big band mentality, which led to the development of a streamlined and dynamic style that contrasted with the dense and busy approach of his bebop peers.
Blakey was also one of the first jazz drummers to incorporate Afro-Cuban grooves and techniques (like elbow pitch-bends) into his arsenal, and he was a forerunner in exploring the musical concepts of West Africa. Blakey even spent considerable time on the continent studying religion and philosophy, which led to his adoption of the Muslim name "Buhaina."
When he formed his own project with pianist Horace Silver in 1955—which later came to be known as the Jazz Messengers—Blakey brought the same big band approach to his small group drumming, focusing on tight arrangements, concise improvisations, and nonstop groove. The resulting sound established a genre all its own—hard bop. From that first session as a bandleader until the time of his death in 1990, Art Blakey and his Jazz Messengers not only represented one of the most visible and hard-working groups in jazz, they were also a veritable breeding ground for ripe up & coming musicians. Some of the most notable Jazz Messenger sidemen include Clifford Brown, Hank Mobley, Lee Morgan, Wayne Shorter, Freddie Hubbard, Curtis Fuller, Branford and Wynton Marsalis, Terence Blanchard, Robin Eubanks, and Donald Harrison. Advertisement
Besides electrifying dozens of records released under his own name, Blakey's explosive dynamics and powerful drive also made him a first-call sideman for hundreds of other sessions in the '50s and '60s. On tenor saxophonist Hank Mobley's classic Blue Note sessions Soul Station and Roll Call, the drummer's ebullient spirit pushes the music to unbelievable levels of intensity. His solo on "This I Dig Of You" from Soul Station is a masterpiece, and his perfectly paced comping behind Mobley's first solo on Roll Call's title cut (complete with choice accents, well-timed fills, and signature press rolls) is a textbook study in solo development. Then for some serious groove, check out the legendary "Blakey shuffle" on organist Jimmy Smith's famed album The Sermon! Many other records from artists like Miles Davis, Cannonball Adderley, and Thelonious Monk also benefit from Blakey's organic and earthy approach.
Photo by Ebet Roberts