Uncle Kracker's Steve Stetson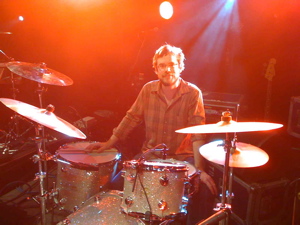 Hey, MD! This is Steve Stetson, drummer with Uncle Kracker. I am a longtime reader of the magazine, so I'm really excited that I've been asked to fill everyone in on what I'm up to. As of late, I've been touring the States promoting Uncle Kracker's latest release, Happy Hour. The new single "Smile" has been generating serious buzz on the radio, so it's getting a great response on the road. We've also had a couple of nationally televised performances already: the CBS Early Show in NYC (wow, that was an early call time—5:15 AM!) and The Tonight Show With Conan O'Brien in L.A.
Our current tour has been with the band Train. The whole band and crew are great. Drum tech Charles "Knuckles" Nicholas is the man! In addition to touring with Uncle Kracker, I had the honor of playing on the track "Good To Be Me," a feel-good song featured on Happy Hour that was produced by the one and only Kid Rock. It was great to work with him and listen to all the rhythmic ideas he has. Kid can definitely play some drums. Of course, Kracker delivered a killer vocal performance, and it was one of the most painless sessions I've been a part of.
What else? Oh, I should probably throw in the requisite gear list, because aren't we all gearheads at heart? I play a four-piece "broken glass" DW kit with Zildjian A cymbals, a Ludwig Black Beauty snare, a DW 9000 single pedal, and Vic Firth Extreme 5B wood-tip sticks. Advertisement
For more, visit www.unclekracker.com.