Wesley Finley of Rebelution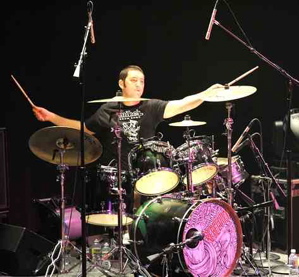 Hey, Modern Drummers, my name is Wesley Finley and I play drums in a band called Rebelution. As we tour the nation in support of our new album, Bright Side Of Life, I'd like to let you guys in on how my group got started and what motivates me most as a drummer.
Rebelution is a reggae-rock outfit based out of Santa Barbara, a mellow California town where we all met in college and made a name for our band. What started out as a fun hobby playing house parties for other college students eventually turned into a bona fide gig requiring us to travel on the weekends to nearby L.A. and San Diego. Conveniently, we all had drastically different majors in college, which enabled us to take on those necessary roles when starting an independent band, from booking, to accounting, to marketing, etc.
Building our business early on helped us to realize exactly what we did or didn't like about the way things are run in the music business, and this helped to put us in control of our music so that when it came time to hire managers and respond to label offers, we knew what we were getting into. Doing as much of the work yourself as you can is the best way to ensure you're getting what you want. This is why I'm the only guy without a tech in my band; I set up, sound check, and break down my own gear every night so that I can be assured that everything is how it should be. With major labels on the way out and the world at our fingertips through the Internet, today's independent musicians have more abilities and creative control than ever before. These are empowering times we're living in! Advertisement
Recorded music today is more of a free marketing tool than it is a commodity, which is why the only way to make a buck these days is to tour–extensively. Nonetheless, this should just be seen as a sort of necessary evolution. As much as technology can enable the music maker, it may make him or her lazy. Touring pushes performers to reproduce their music day after day in different geographic locations, thus proving themselves to their audience and listeners. Besides, what's more fun than seeing your favorite band play their music live, right before your very eyes?
I recently had the chance to catch my favorite band, Dredg, as they toured for their most recent album. Driving over an hour to see them by myself, I was ready for a religious experience of sorts. Their drummer, Dino Campanella, is nothing short of amazing–in addition to playing the keyboard and drumset simultaneously, he possesses a sense of dynamics and grace I have never seen before. As I watched their set, barely blinking, I was reminded of the power of a live show and the energy you can transfer to the crowd as a live performer.
Driving back from the show in the middle of the night, I could hardly wait until my band's next practice. My band had sporadic shows and festivals later that month, and from my performances my bandmates and managers could tell that I had undergone a transformation; I was renewed with a sense of excitement when I played, and I was trying things out on the drumset that I had never done before, helping to make our live show more dynamic and fun for me as well. As much as you may play live, it is equally if not more important to witness and be a part of a show yourself. Advertisement
I am very proud of my band's new release and hope you have the chance to give it a listen. Thanks for reading, and happy drumming!
Photo by Locals Night. For more on Wesley Finley and Rebelution, go to www.myspace.com/rebelution.