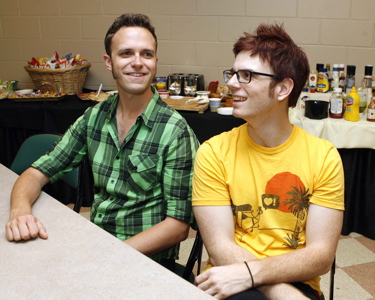 Drew Steen has been the drummer for teen pop sensation Demi Lovato for a little over a year now, and Jerry Roe is the new beatkeeper for 2008 American Idol runner-up David Archuleta. Steen and Roe met for the first time several months ago at the start of a forty-seven-city nationwide joint tour with Lovato and Archuleta, and they became fast friends. They're experienced, talented drummers, mature beyond their years (they're both under twenty-five).
These young timekeepers come from musical families. Steen's dad, Dave, is a popular lyricist, and his brother, Ryland, is the drummer for Reel Big Fish. And Roe's grandfather is none other than country music legend Jerry Reed. What else do these two have in common? Well, maybe a little bit of exhaustion. They just finished up that extensive tour, where they got to demonstrate their drumming prowess to sold-out crowds in arenas from coast to coast. Modern Drummer spent a day with Drew and Jerry at their Sunrise, Florida, tour stop and got to know them a little better.
MD: How did coming from a musical family influence your decision to pursue music as a career?
Drew: For me it was easy. My brother, Ryland, was always an influence on not just my playing, but also on my life. Watching him move out to southern California and do so well made me less nervous about making the move. My father, Dave, who's a well-known, Grammy-nominated blues songwriter, was super-supportive. He knew that I was mature enough and had enough drive to make a career in music. Growing up around him and listening to his influences was huge for me. During the '80s he had been in a band on Columbia Records, so he had an idea of the industry. It always helps when you have someone in your family who "gets it."
Jerry: I never really had much choice! I started playing drums when I was one-and-a-half years old. At the suggestion of my grandfather, my parents bought me a Junior Pro drumkit in a bid to save the furniture from being destroyed. [laughs] As the story goes, I would move in perfect time and hit things in rhythm, so my grandfather, a huge fan of the drums, started yelling at my parents to get me a kit.
MD: When you were developing as a drummer, did you practice to CDs/DVDs? If so, which ones?
Drew: I was a huge Blink-182 fan. Practicing to Travis Barker's studio records played an enormous part in the development of my playing. I was also a huge Steely Dan fan. I would play their records. I don't believe I ever really mastered any of them, but I definitely learned a lot in the process. When I was growing up I had no social life after school. I would rush home, sit behind the drums, and play until my parents would blink the lights from the upstairs light switch to make me stop.
Jerry: My dad was a big prog rock, metal, and fusion fan. I looked up to him a lot, so I basically hijacked his record collection because I wanted to be like him. I practiced to a lot of Neil Peart, playing along to Exit Stage Left, Signals, and 2112, as any young developing drummer should, as well as Bill Bruford—era King Crimson. Red, Three Of A Perfect Pair, and Discipline are big favorites of mine. A little later on I got into a lot of old jazz trio records my dad owned, nearly ruining them, and devoured his Tower Of Power and Weather Report collection. I very quickly moved out of that and into the metal realm, diving right into Pantera records. And then grunge hit. I'm definitely a baby of the '90s, so the metal and grunge of the early '90s consumed me, and I still love it to this day. I also grew up surrounded by old country and southern rock, as my father and grandfather both worked in the industry for a very long time. The music has largely influenced me via osmosis.