Twin Atlantic's Craig Kneale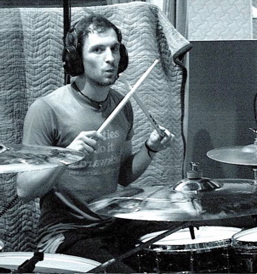 Hello there, modern drummers! My name is Craig Kneale and I play in a rock band called Twin Atlantic, which hails from Glasgow, Scotland. First of all I'd like to say that it really is an honour to write a little bit about myself for the Modern Drummer blog.
I've been a fan since I first picked up a copy of the magazine when I was in New York with my dad when I was sixteen years old–just after I started playing drums. I remember thinking that this was the magazine the big boys would read, and then I remember being like, I am most definitely not a big boy yet. There was a review of the DW 9000 single bass drum pedal in that month's edition, and I remember being mesmerized by it. The day before I went home, I went to a drum shop just off Times Square and bought one. It was then that my love for DW began and also when I really started to take drumming seriously. So I'll always remember Modern Drummer for that!
I originally took up drums for the sole reason that my friends had started a band and no one they knew had drums. I was really into the Foo Fighters and thought that Taylor Hawkins looked like a ladies' man, so I thought that if I played drums I too could be a ladies' man. For the first six months I was very sloppy, but I managed to master the Hives song "Hate To Say I Told You So" for a school talent competition. We came in second behind someone who mimed to Mariah Carey–we were robbed, I tell thee. Advertisement
The main reason why I started to take it seriously after that was because I had a great teacher called Kenny Hyslop. Kenny had played in a lot of big bands in his day, and he approached drums unlike any other teacher I know. He let me have my own style and actually encouraged me to stay away from the more traditional approach to learning drums. As such, I may not have a particularly technical drumming brain, but I play with a passion that I think has definitely helped me to get noticed. A passion that I don't think would be as apparent if I hadn't studied with Kenny.
I recently received an endorsement with C&C Custom Drums, and I've been playing in Twin Atlantic for two and a half years now–and it's the best job in the world. I managed to worm my way into the band by literally pestering the other guys until the easiest way to get me off their backs was to just let me play with them, and we haven't really looked back since. We practice on average five or six days a week, and we treat this more seriously than any "real" job we may have had instead. We've had the honour of touring with some of our favourite bands and have built up an amazingly dedicated fan base that makes all the hard work worth it.
We spent the months of March, April, and May of this year recording our debut record, Vivarium, in Los Angeles, an amazing experience that drew us even closer as a band. We learned a lot about songwriting and what it takes if you really want to make it. We're intensely proud of the finished product. I think each song is an individual stamp of where we are as a band right now–it's heavy and melodic, with lots of interesting twists and turns. All over the place but cohesive at the same time! Advertisement
We've been playing a lot of the U.K. festivals over the summer and just returned from Germany–a completely different experience from the U.K., but equally as good. And I got to watch Deftones from the side stage–absolutely incredible. Abe Cunningham has always been one of my favourite drummers, and watching him that close just made me want to take my drumming to the next level. So hopefully I can!
We head out on the longest headline tour of our career in September, a month-long jaunt across the U.K. and Ireland. In the middle of which the record comes out, so I think it's safe to say I speak for all of us when I say that it's gearing up to be the most exciting period in our lives so far. Hope you can join us for the journey! Thank you for letting me pull thoughts from my brain for you.
Vivarium will be released on September 14 by Red Bull Records. For dates and more info on Twin Atlantic, go to www.myspace.com/twinatlantic.