Mikey Martin of Shiny Toy Guns – How he got started!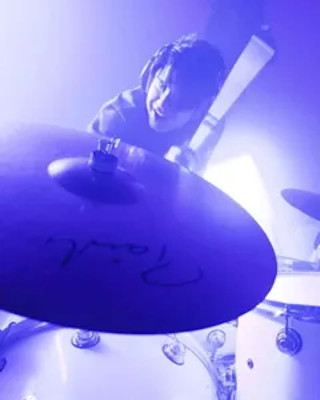 Hello, Modern Drummers, my name is Mikey Martin, born and raised in beautiful Southern California. I've been the drummer for Shiny Toy Guns since 2004.
When I started playing music early on in grade school, I fell head over heals in love with the drums, thanks to a childhood friend of mine, Mike D. After school I would go to his house not to play or hang out with him but to stare at and maybe sit behind his kit. Thanks to his brother, I was introduced to rock 'n' roll, and I thought how fun and exciting it would be to play in a band.
Watching rock videos on MTV (back when they played videos), I made up my mind that I wanted to be a drummer. It took a few years, but I finally had a kit of my own. I started playing in church, and from there jumped around from band to band–nothing serious, just a pre-teen having fun trying to play and create music with friends and sometimes even strangers.
Years went by and I met Stephen Petree, a singer-songwriter who loved rock 'n' roll. I was immediately drawn to his music and started playing with his band. He introduced me to his brother and another friend they were working on a project with. I loved all of the music they were working on. I thought to myself, Why am I not playing drums for this band? In fact, in 2004 I was asked to be the drummer for this little project–though I knew it wouldn't be a small project for long. Advertisement
Ever since then it's been a rollercoaster ride I never want to get off. We were signed to Universal Motown and have released two records, We Are Pilots, which was nominated for a Grammy in 2007, and Season Of Poison. We're currently working on our third record. We've toured with many great bands, including Mute Math, Kill Hannah, Midway State, The Sounds, Blue October, Fall Out Boy, AAR, and the Offspring. We're looking forward to sharing the stage with many more amazing bands in the future.
I'm currently playing a custom five-piece Truth kit, Paiste cymbals, and DW hardware. I play with Vater sticks and use Evans heads. I particularly want to say thanks to Truth and Paiste–I appreciate your support and confidence in me!
For more on Shiny Toy Guns, visit www.myspace.com/shinytoyguns or www.facebook.com/shinytoyguns.