Erik Eldenius is working on a lot of things!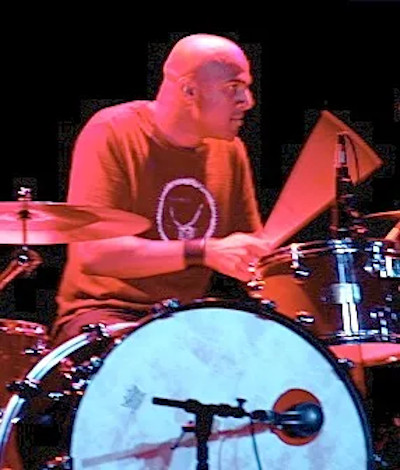 Hi, MD! Lately I have spread myself quite thin, a bit out of necessity, but mainly out of pure love. After so many years of touring I have tried to stay in town a lot more and focus on recording, and I've been super-lucky to work with Billy Idol, Jackson Browne, Mandy Moore, Vanessa Carlton, Donna Summer, Ace Young, and American Idol. And my love for music as a whole has led me into so many different areas of the business.
I've been tracking drums for Robert King's new CD with producer Lynne Earls and producing, recording, mixing, and mastering an album for folk singer David Sheffield, from Texas. I'm writing punk/grunge cues for MTV and the NFL (you can hear them before and after the breaks), engineering indie artist Mike Wise's record, and tracking drums for my band Low Millions–there's a possible reunion! Touring the world with this band has made for some of my best memories.
I'm also doing one-offs and an East Coast tour with Dilana, (Rockstar Supernova TV show). With her I play drums, guitar, and piano and sing–mostly all at the same time. We're busy writing and recording her new record–she's also my fiancé, so why not combine business with pleasure! We're lucky to have our own studio where we can record everything. Because I also play guitar and piano, I have been able to create a pretty cool scenario for a lot of people who don't have a big budget–or even a band, for that matter. They can come in by themselves with a song and leave with a finished product. Advertisement
I find that stepping over to "the other side of the glass" has really made me a much better drummer. I'm aware of how drums really sound and the different ways you can capture or manipulate the sound by learning to play for the kind of room you record in–what kind of mics and the amount and placement of them. What a difference it makes. I have truly become obsessed with the recording aspect of things and probably spend money that I don't have on equipment, but what are you going to do if you love it, right?
In the last four years or so I've probably produced ten albums for different artists. If you told me that five years ago, I would have laughed my ass off. You just never know about life's surprises!
Thanks for reading, guys! Big thank-yous to Modern Drummer, Mapex, Sabian, Vic Firth, and Aquarian for their constant support.
Find info and tour dates at www.myspace.com/erikeldenius and www.myspace.com/dilanarox.