Drummers, On the Beat
Gina Cappella-Grohl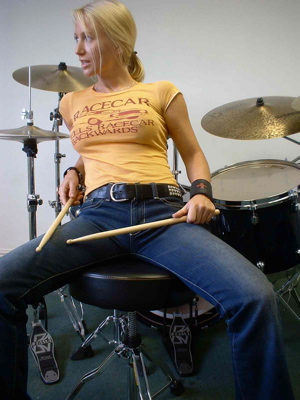 Hello, MD! My name is Gina Cappella-Grohl and I grew up in Devon, England. When I was five years old I remember making up my own shows for my family and friends, and at six years old I told my parents I wanted to go to acting school. They told me I had to wait until I was twelve–I waited until I was twelve and some how that never happened.
I have always been into rhythm, so I danced and sang because drums were out of the question. My parents said, "Girls don't play drums." The funny thing is, they still say that and still haven't seen me play! The bottom line is I was determined to play the drums, and I finally made it happen. I bought a set of Tama drums, and I started taking drum lessons from the best teacher in Devon, Steve Crossan, and eventually progressed to the ACM in Guilford. I played drums and sang in local bands and toured the country playing in clubs and eventually at some festivals.
I always knew that if I really wanted to make it as a drummer/musician I would have to live in Los Angeles. That's where all kinds of opportunities in the music business happen. I am currently working with a band called Mercy Love. When I'm not recording or working on other projects, I also write my own music where I play drums and sing. My music is very dark and haunting. My musical influences are PJ Harvey, Queens Of The Stone Age, and Reef. The drummers that have inspired me are, John Bonham, Kenny Aronoff, Dave Grohl (not just because we have similar names), and Joey Castillo because they are not only great drummers, but they are great musicians.
www.geecappellagrohl.com/, www.acm.ac.uk/, www.myspace.com/mercylovetheband