Rick Long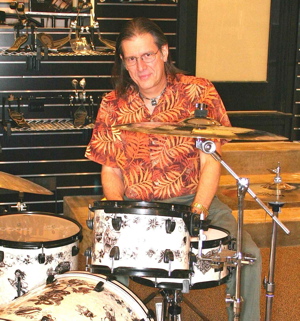 After ten-plus years in the drum industry as a freelance writer for Modern Drummer, I decided, "It's time to play." I love my writing work, but the local gigs I was taking on the drums weren't enough to satisfy my desire to be on bigger stages in front of larger audiences. To do this, I would need to hone my skills to the maximum level possible. This meant lessons with the best players available.
I'm fortunate to live in southern California, where many of the drum heroes I've listened to all my life live and work. Like so many drummers who contribute to the MD Reader's Poll each year, Kenny Aronoff is one of my heroes. I've met Kenny several times over the years through opportunities presented by my magazine work, but I'd never discussed the idea of studying with him. I gritted my teeth one night and sent off an email hoping he would respond, even if the answer was no. A big smile was on my face when I read his reply that he would be happy to work with me.
If anything, I am multi-faceted. I write, I play drums, and I also work freelance in the medical field. (Hey, it pays and I can set my own schedule so I can take drumming gigs at a moment's notice!) My taste in music and passion for drumming is multi-faceted as well. I like rock drumming for its driving force nature, but if you look through my iPod, you will find the Yellowjackets, Van Morrison, Kenny Wayne Shepherd, even the New Orleans Jazz Vipers. If you want to get a taste of what real jazz is like, play along their live version of a tune called "Digga-Digga-Do." That's what I call a workout. Advertisement
To get all of these styles back under my belt, I knew it would take more than one teacher. That decision led me to study with a drummer I met while attending an event at the Professional Drum Shop in Hollywood, across the street from the Musician's Union Local 47 on Vine Street. Denny Seiwell played with Paul McCartney & Wings back in the day and has done a ton of studio work in the LA music scene. He's a jazzer at heart and is putting me through the paces with emphasis on chart reading, time feel, and sonic balance around the kit.
If you really want to play the drums with style and grace, start looking into the techniques promoted over half a century ago by a guy named Sanford Moeller. Jojo Mayer's video covers this and will keep you working for a while, but check out Bart Robley's book and video as well. Bart is a friend, and I found through studying with him that he is a disciple and full professor of the Moeller method.
Check out my web presence at www.myspace.com/glassthunder and follow along as my studies help me "get on the bus." I have a feeling it's going to be a great ride.