The Trews' Sean Dalton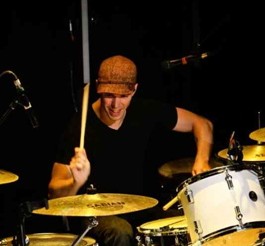 Hey, MD! My name is Sean Dalton, and I play in a rock 'n' roll band called the Trews, based out of Toronto. I was born on the rugged island of Newfoundland, the easternmost point in North America. As a child I grew up studying classical, jazz, and African music under the great Don Wherry, the head of percussion at Memorial University N.F.L.D.
Being a music lover, I decided to continue my studies, so I entered the jazz program at St. Francis Xavier University in Anigonish, Nova Scotia. After a year of studying, I decided to move away from music for a couple of years, but it didn't last long. One day I received a phone call from one of my cousins from Antigonish who, at the time, was playing in a great rock band called Trouser. Their drummer was calling it quits and they asked me to join, so I went for it. I packed up my stuff and hitched a ride to Antigonish.
We jammed for two weeks and realized that for our music to be heard, we had to hit the road. We piled into the van with the clothes we had on our backs and drove to Ontario. We slept in the van, in campgrounds, and on people's floors–anywhere we could crash. We had no money, no gigs, and nowhere to live. We ended up settling in a house in Niagara Falls–if you could call it a house. But rent was cheap, so we hit the streets with acoustic guitars and a djembe, and for the first little while that's how we made the rent on time. Advertisement
One day, a young guy saw us on the street and told us he could get us a gig. Thanks, Nathan! We changed our name from Trouser to the Trews and landed a weekly gig at a little pub in downtown Niagara. We soon started packing the place and making a name for ourselves. We entered a local battle of the bands put on by a great radio station in St. Catharines, 97.7 FM. (Love you, guys!) We won prizes and, most importantly, we got airtime. They still play us today, and luckily so do many stations in Canada.
With our name and sound getting around, we started attracting more gigs at great little venues around Southern Ont. A real break was scoring a weekly gig at a blues bar in Toronto called Healey's, which of course belonged to the great Jeff Healey. (We love and miss you, Jeff!) That gave us an opportunity to start cutting our teeth with some great musicians in the big city, including Jeff himself.
It was here that we were 'discovered' by our label and management, Bumstead Productions, which at that time was managing our favorite Canadian band, Big Sugar. Our manager brought bandleader Gordie Johnson to the bar one night to see us play. He liked what he saw and told us he would produce our first record. He took us across Canada on a Big Sugar tour that would change our lives for the better. It was a success, and so was our record. So much so that we scored a gold album and had the number-one rock radio song in Canada that year. Advertisement
Flash forward five years, and here we are on our third record, No Time For Later, produced in Toronto and Brooklyn by Gus Van Go and Werner F. It's our most ambitious, artistic, and controversial album to date. The single "Paranoid Freak" is being sent to U.S. radio, and the album will hit the streets in the States in April '09 through MRV Records.
You can check out our Web site to see what we're all about and for upcoming American dates!
www.thetrewsmusic.com

Photo by Nancy Desrosiers