David Jones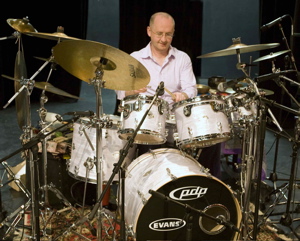 Peace and blessings to all MD readers and fellow drummers–from Down Under! David Jones here, writing from Melbourne, Australia. It's so great to have the chance to be a part of this fantastic blog!
I just want to take this opportunity to share with you the amazing journey I've had over the last year–2008 was truly an unforgettable experience.
After decades of playing in bands with other musicians and participating in international drum festivals, I decided to focus the last three years on solo projects closer to home (such as with the Orchestra Ensemble Kanazawa, Japan, and meditation music-directed performances and album releases) in the lead-up to my first solo album. Colours Of The Drum, a double CD/DVD package, was finally released through ABC Classics early this year and has been beautifully received by both drummers and aficionados alike. It was even honoured with a Fine Arts Aria nomination here in Australia for best world music album. (For those who are unfamiliar with the Arias, they are like the Australian equivalent of the Grammy Awards.) It was also reviewed in the recent February edition of Modern Drummer magazine.
This leads me to mention one of the best moments of my life–The Cape Breton Drumming Festival in Canada! Meeting and sharing the stage with drummers of the expertise and calibre of Ed Mann, Danny Seraphine, Michael Shrieve, Aldo Mazza, Carmine Appice, Liberty DeVitto, and Pamela Lynn was just incredible–what great musos! And then to catch up with my dear old friend Dom Famularo, with whom I toured and appeared with at nonstop international festivals back in the '90s, was unreal! Advertisement
I also appeared at the Australian Ultimate Drummers Weekend, where I had the pleasure of performing solo, conducting mainstage workshops, and later jamming alongside Bruce Aitken, who I'd already met at the CPDF, as well as with a score of amazing drummers including Mike Mangini, Horacio Hernandez, Billy Ward, Clayton Cameron, and Mark Schulman.
I've also just finished recording a new instructional drumming DVD, which is currently being edited. It is called Drumming In The Zone, and will be available nationally in early 2009, and later internationally–so please keep an eye out for it!
Last year was soooo busy, and 2009 promises to be just as big. I kick off the year with a national tour in March/April with PDP/DW Drums, my new endorsement. (You have to check out these drums; they're amazing!) I hope to be in the US in the second half of the year–and that's only the beginning! Advertisement
For more on David Jones, go to www.davidjonesdrums.com.au or www.myspace.com/davidjonesdrums