Web Exclusive Interview: Britney Spears' Chris Bailey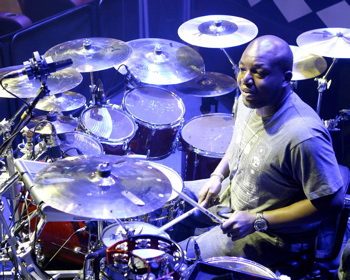 Story and photos by Sayre Berman
Chris Bailey was born in Sheffield, England, on January 5, 1974, and has been surrounded by music his whole life. His dad played guitar and his mom sang, and early on Chris discovered he had an uncanny talent for the drums. At age eight he was already playing in his family's gospel church band.
About four years ago Chris made his way to the U.S. It took a while for him to get his career started, but he eventually landed on his feet as a working drummer. MD was able to catch up with Chris just before soundcheck at the third stop of the Britney tour, the American Airlines Arena in Miami.
MD: What initially sparked your interest in music?
Chris: I just had a natural knack for rhythm; there wasn't a lot to think about or be taught. I could just play, and I enjoyed beats and rhythms and music. Music is something that was always at church. I played at a black gospel church…I've been surrounded by music my whole life. Advertisement
MD: Who have been the biggest influences on your drumming career?
Chris: There are too many to mention, but I'll start with the main ones: Dennis Chambers, who's become a friend of mine. Vinnie Colaiuta, Dave Weckl, Steve Jordan, Michael Bland… A lot of today's drummers who are doing the huge gigs-Aaron Spears, who played for Usher, Gorden Campbell with Jessica Simpson, Teddy Campbell from American Idol, Gerald Heyward with Chris Brown. They're all friends of mine and inspirations to me as well. Another favorite is Chris Johnson with Frankie Beverly. It's all about the music for Chris. I like him as much for what he doesn't play-there's no flash, it's just about the music. I just love to hear great players. Some drummers don't like to give it up, but I'm not like that. If another guy does stuff I can't do, I ask him, "Can you show me what you just did?" We all have to learn from someone.
MD: How did you meet Dennis?
Chris: He was doing drum clinics in England, and I was a fan. He started to recognize me. One night a friend of mine who was organizing one of his clinics introduced me to him, and we got to talking. I kept seeing him, so he gave me his email address and we stayed in touch and became friends. He's a great guy with lots of advice and tips and even recommendations. He couldn't do a session once with bassist Bunny Brunel, and he recommended me. I went there and did my thing, and they called me back a couple more times, so I've been blessed to do a lot of cool stuff and meet some great people along the way.
There have been a couple of industry people over the years in the U.K. that I am extremely grateful to, including George Frederick, who gave me my first drum deal and believed in me when many other people didn't. George introduced me to Tina Clarke at Zildjian, and she gave me my first cymbal deal. Also, there's Marco at Vic Firth. When I first got to the U.S. and didn't have too much going on, Marco would send me sticks and just help me out when I really needed it. To this day he has stayed loyal, and that counts for an awful lot. Advertisement
MD: When you were developing your musical skills, did you play along to records and CDs?
Chris: That's how I used to practice. To me the most important things are making the music feel good and having a good sense of timing. Those elements are essential. Chops and all that stuff are secondary to me; it has its place, but only a few gigs that I've done have called for it. My timing developed by playing along to records. As a result, I'm now known for being solid and making the music feel good.