Rhythmm Epkins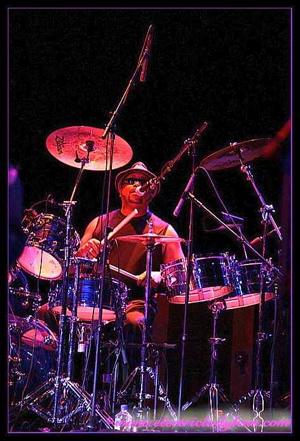 Hello to all the Modern Drummer readers and to all the amazing musicians around the world. It is an honor to share a piece of my career with all of you. Over the years I've had the pleasure of playing with a lot of great musicians, artists, and singers, and I've learned something new from each one of them. I hope I can return the favor.
I am currently the drummer and backup vocalist for The English Beat in America. Lead vocalist Dave Wakeling is an incredible songwriter and singer, and I've had the honor of playing with him for eleven years. The music we play with The English Beat is always exciting and challenging because we blend a lot of different styles–reggae, punk, ska, English pop, rock, soul, and funk, all rolled into one. I have also played with OMD, Pete Escovedo, Image 82, and so many other artists.
Growing up in New York City, I have played every style of music, from jazz to rock, country to blues, reggae to salsa, Gospel to funk. One thing I have learned from all these styles is to always know where the 1 is–and to be flexible on the 2! Advertisement
To approach music correctly, I feel you should have an open heart and an open mind, regardless of what genre of music you're playing. I approach my drumming not only as a percussion instrument but as a musical instrument. Just because drums do not have strings or valves, that doesn't mean you can't find a note.
My biggest influence is my mother, who is one of the greatest musicians I've ever known. Some of my other influences are extraordinary drummers like Max Roach, Buddy Rich, Papa Joe Jones, Elvin Jones, Steve Gadd, Lenny White, Billy Cobham, and so many more.
So to all my drumming family, I say always give 100 percent, and you will receive the same. Have an open mind for different genres of music, and continue to let the sticks flow! I hope to hear from you soon. Advertisement
For more on Rhythmm Epkins visit www.rhythmm.com