Pendulum's Kodish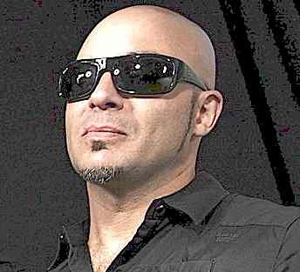 Yo, howzit goin', USA? Kodish here, on the road in Europe with Pendulum. If you're unfamiliar with the band, we're a London-based act and have a rock and electronic, bass-heavy sound, or to put it another way, we play rock with drum 'n' bass technology. We have two albums out so far, Hold Your Colour (on a smaller label), and In Silico (on Atlantic Records), which recently went gold in the UK!
If you're unfamiliar with me, I've been primarily involved with drum 'n' bass music since it began in the early '90s. Some of you might remember my involvement with Apollo 440 and with Jean Michel Jarre, which were more electronic than drum 'n' bass. I also (if anyone remembers) played with Whodini–old-school rap from back in the day. I've been on the road for a year now–Australia, Brazil, Mexico (with Nine Inch Nails), Japan, USA, Canada, Europe–including all the UK festivals, the Coachella Festival, and Projekt Revolution (with Jay Z, N.E.R.D., Linkin Park), and our 100th show is in Cologne, Germany.
Our USA tour last month was a blast. The highlight was a sold-out show at Webster Hall in NYC, though my favorite show was at The Fillmore in San Francisco. I used a GMS kit on the tour, which was awesome when combined with my drum trigger system. This European tour I'm using a Tama Starclassic Maple kit, which sounds great as well. I'm going to put the full specs of my set on the Pendulum site soon, which you might find interesting (or not, ha). Advertisement
Keeping in shape is important for me playing in Pendulum, as most of the beats are kicking at 174+ bpm. So, no smoking or anything for me, as the show is well over an hour and a half long, and stamina is the key. Though when I was in New York, I ate too many pastrami sandwiches (my weakness). Apparently we were on the Carson Daly show and the Jules Holland show in the UK.
New Year's Eve this year is gonna be nutz, as we headline a show in Perth, Australia (which is where the original members of Pendulum–Rob Swire (ztar and vocs), Gaz M'Grillen (bass), and DJ Elhornet–hail from. So it's a homecoming show, with Public Enemy, Mos Def, and a whole host of top DNB deejays in front of 5,000+ drunk Aussies.
Well, it was nice chatting to the Modern Drummer massive. Just like to say thanx to Jho, my manager, for keeping me sane(ish), Bob and Tina at Zildjian for giving me cymbals, Ben at Vic Firth for giving me sticks, and the Second Avenue Deli for giving me pastrami sandwiches. Advertisement
Peace 'n' love,
Kodish
For more with Kodish and Pendulum, go to www.pendulum.com or www.myspace.com/pendulum.