Drummer Blog: Walfredo Reyes Jr.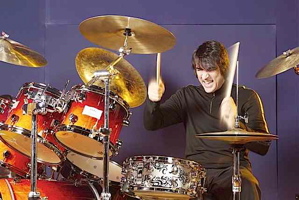 Hello, MD readers! This is the first blog I've ever written—about time, right? The main purpose is to present an update on what I've been doing lately and what I've done in past twenty years!
I just finished touring with Lindsey Buckingham (guitarist/singer of Fleetwood Mac) for his Gift Of Screws CD tour. Working with Lindsey is great! Being a fan of his work with Fleetwood Mac makes it an honor to share the stage with him. We went all over the US, traveling on a Lear jet. What a way to see this beautiful country–and what a way to get there on time. For this tour I mainly used Roland V drums because Lindsey wanted a different-sounding drumset on every tune, and I didn't have enough time to make it all work by triggering an acoustic set. I also played percussion on a few songs.
Being a percussionist and drumset artist has widened my music possibilities through out my career. I've toured and recorded on percussion and/or drums for many artists that I dreamed of playing with when I was younger. So I can really say many of my dreams have come true already. In a nutshell, since I moved to Los Angeles, I've toured and/or recorded with Tania Maria (1983—'84), David Lindley's El Rayo X (1985—'88), Jackson Browne (1988), Jimmy Barnes (Australia, 1988), Santana (1989—'93), Boz Scaggs (1992), Gloria Estefan (1993), Traffic (1994), Robbie Robertson (1995), Steve Winwood (1997-2004), Joe Sample (1998—'99), Johnny Hallyday (2000), Khaled (2005), Lindsey Buckingham (2007—'08), and Mickey Hart (2008). In between these diverse tours, there have been many more great sessions for CDs, videos, movies, TV, and live concerts with virtuoso guitarist Carl Verheyen (check out the new CD Trading Eights, coming out soon), GRS Trio (check out the Latin funk band's License To Chill), and the very recent A&E Private Sessions with Lindsey Buckingham. Advertisement
My passion for world music and collecting percussion and drums from around the world has led me to gain a vast knowledge of music history, and I've accumulated a wealth of information that I always love to share with other drummers. I teach from my home in Valencia, California and do many international clinics and master classes for LP, Mapex, Sabian, Remo, Roland, and Regal Tip–who, by the way, came out with my new stick, El Rockero. I could do a blog just on this stick alone–but that's for another time.
In 2005 I came out with a instructional DVD, Global Beats For Drumset And Percussion, which was released by Hal Leonard. It's definitely not a DVD on flash chops, technique, or bombastic and fast drumming. Rather, I tried to show different grooves, feels, and concepts of incorporating some percussion into your kit by playing with a band. I'm writing a book sequel to this DVD now, and I'm working on finishing my CD Welcome To Wallyworld, which I always seem to put at the bottom of the priority list after tours and sessions.
In the world of drum knowledge, there is a beginning point but there seems to be no end! There's always something new to learn–and I've learned so much from this magazine and from so many drummers around the world. And I'm grateful to continue to learn and share information with all of you. It's a privilege to make music for a living. I must say it's also tough and frustrating at times for families and loved ones–the ups and downs of the biz–but very fulfilling and rewarding nonetheless. Advertisement
Stay in touch, stay healthy, and until next time, may your groove be phat and may all your dreams come true!
Wally
Be sure to check out the sidebar on Wally in Lindsey Buckingham's Different View interview in the March '09 issue of MD. And for more on Wally, visit www.walfredoreyesjr.com or www.myspace.com/walfredoreyesjrmusic.