Terry Silverlight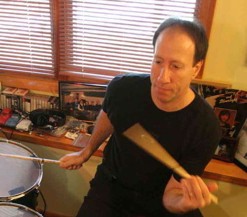 Hello, MD readers! I'm happy to tell you about some of my recent activities, beginning with an overview of my background.
I was born into a musical household. My brother, Barry Miles, ten years older than me, was a child prodigy drummer/pianist/vibist/composer in the mid- to late-'50s, appearing on bills with John Coltrane, Miles Davis, Lester Young, and Billie Holiday, among others. I remember hearing music all day long from Barry's record collection, his jam sessions, and performances with his bands that included newcomers Woody Shaw, Jimmy Owens, and Eddie Gomez.
Drawing from his early experiences, Barry began developing a new form of music called "syncretic." It was his word describing the fusion of jazz with Indian and other ethnic rhythms, the electric energy of rock, classical, R&B, and anything else inspiring. His Syncretic Compositions album, recorded in 1966, marks one of the first, if not the first effort that later was labeled "fusion."
By 1969, I began to practice drums regularly. Barry recognized my talent and gave me the opportunity to focus my routine on material he was writing specifically for a new album. This music became a natural part of me, and in 1971, at the age of fourteen, I recorded my first album, Barry's White Heat. It inspired young musicians including Pat Metheny, and helped launch the careers of Pat Martino, John Abercrombie, and Lew Tabackin, who played on it. I became aware there were other musicians paving a similar path in jazz, but it was my own unique musical world that made my drumming progress the way it did. Although they inspired me, these musicians were my peers, not mentors. Advertisement
I compiled some of the concepts I played during that time, particularly over-the-barline patterns, and wrote a drum instruction book, The Featured Drummer. It has recently been reissued by Music Sales with an audio CD of me playing the exercises along with Barry and John Patitucci.
While many great musicians came through my brother's Barry Miles & Silverlight band, including those who were beginning their careers such as Al Di Meola, I continued to help Barry develop this music throughout the '70s. After attending Princeton University, I decided to become a freelancer on the New York music scene. I played on countless albums in a variety of styles, as well as jingles, film soundtracks, TV shows, and live performances.
All along, I've had a simultaneous career as a composer/songwriter/arranger/producer. Several of my songs have been recorded, and many pieces have been used for TV, jingles, and film.
Recently I formed my own group, The Terry Silverlight Band. I combined my varied musical experiences as a drummer/writer and pieced them together into the musical setting I originally started out with. I've also recorded three solo CDs. On Wild!, bassist Will Lee graced me with his co-producing and extraordinary playing, along with Paul Shaffer, Edgar Winter, Hiram Bullock, Chuck Loeb, Lew Soloff, and David Mann. On my latest CD, Diamond In The Riff, I've reunited with Barry (who co-produced with me and plays amazing piano throughout) and Will Lee. There's live video footage of the recording session, along with my other videos, on YouTube. Advertisement
I've continued to freelance as a drummer, and I'm a member of arranger David Matthews' big band, The Manhattan Jazz Orchestra, with whom I tour Japan regularly, I've played on recent recordings for various artists, and I'm active as a clinician and an educator. I've been a featured artist at PASIC, and I've participated in worldwide Internet clinics hosted by Allan Molnar's Alive Project. Recently I co-authored another book published by Music Sales, The Stick Bag Book Of Jazz, Funk And Fusion. I'm also glad to say that many of my students over the years have had successful drumming careers of their own.
I hope the joys and challenges that I've experienced throughout my journey inspire you to explore for yourself the rich and beautiful world that music and drumming have to offer.
Terry Silverlight

For more on Terry Silverlight, go to www.terrysilverlight.com, www.myspace.com/terrysilverlight, www.youtube.com/terrysilverlight, or www.cdbaby.com/found?allsearch=terry+silverlight&submit=">CDBaby.