Spencer Peterson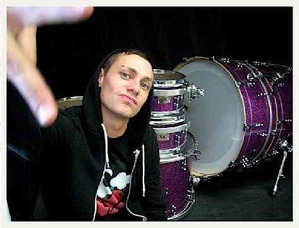 Hello, MD readers! My name is Spencer Peterson, and I first took an interest in the drums at an early age, though it wasn't until I was ten years old that I took them seriously. Throughout middle and high school I played in church, took private lessons, and marched snare on the drum line. After graduation, I enrolled at the Atlanta Institute Of Music, and though I wasn't there long, I had the privilege of studying under Chris Coleman and Tom Knight. While at AIM I caught wind of an audition for Drive Thru Records act Hidden In Plain View. A seventeen-hour drive, $120 in gas, and 1,000 miles later, I found myself going on a six-week, full US tour. I took on the role as a full-time member, but as all good things must come to an end, HIPV disbanded in early 2007.
Realizing I had to find another gig (and fast–I had no more food!), I took a job as a drum tech for an Epitaph Records tour. Going from commanding the drum throne to setting it up for someone else was a very tough but humbling experience. I continued drum teching for Less Than Jake on a European tour later that year, and got to work on/share stages with bands like Iron Maiden, Pearl Jam, and The Killers.
While teching was fun, my passion is playing. In between fill-in gigs, I received a call for a new project on Geffen Records called Charlotte Sometimes. Fast-forward eighteen months to the present day, and here I am, fresh off the road having supported artists such as Butch Walker, Pat Monahan, and Gavin DeGraw. The only drawback: Charlotte has decided to go acoustic for the rest of the year. Advertisement
One thing I've learned is this: The music industry has its ups and downs. One week you're on MTV, the next you're cleaning mud off of a dude's kit in front of 20,000 people at a rainy festival in Austria. I've also learned that to make a living in this business, you've got to hustle. Making good contacts and keeping them open is key. Being on top of your game is even more important. When I'm home from tour, I still treat drumming as a job. I get up and study records or DVDs, work on my technique, then practice for four to six hours. Although I'm extremely hungry to further my career, I'm slowly learning that being patient will pay off.
The reality of this profession is that gigs will come and go. If I can offer any advice to someone who may find him or herself in a similar position, it's to stay positive! It's easy to get in a funk when things don't go as planned, but the true measure of a professional is how you handle that situation.
As of now, I'm currently available for full-time recording, touring, and teaching opportunities. I definitely can't end this without giving some love to SJC Custom Drums, Sabian, and Vater, all of whom have supported me through good times and bad. Thank you, guys! Advertisement
Hope to see you all on the road soon!
Spencer
For more on Spencer Peterson, go to www.myspace.com/spencerpeterson.