Richard Hoak of Total F**king Destruction & Brutal Truth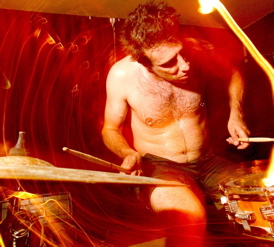 Hi, everyone! My name is Richard Hoak, and I've been playing drums professionally since 1992. Currently I'm playing with Total F**king Destruction and with the legendary and recently re-formed grind band Brutal Truth. Some of you might remember my appearance in the pages of Modern Drummer magazine back in 1997 as part of the "Diamonds In The Rough" feature.
My story of becoming a modern drummer is not the usual one, so I hope it will give a different perspective. I've often been quoted as saying that I am at war with the drumset; I guess what I mean is that I prefer to always play at the outer limits of my ability. I don't believe that a drummer has to be technically perfect; I do believe that a drummer should play with all their heart and soul. I've seen drummers who have amazing technique but who put me to sleep within a few minutes, and I've been totally inspired by drummers who lack much technical ability but play with style and emotion perfectly suited to the music.
When I was in eighth grade, the high school band director visited our class and asked anyone interested in joining band to list three instruments they would like to learn. I listed drums, drums, and drums, but ended up being forced to play saxophone because that's what was needed. So throughout high school I played sax, tuba, and bass guitar in jazz, concert, and marching bands. After high school, I played in punk and metal bands as a bassist and vocalist. I distinctly remember being at a rehearsal for a punk band when I was about twenty-five, watching the drummer play, when it suddenly clicked for me: "That's how drums are played. I can do that!" That night I played a drumset for the first time, and soon after I abandoned all other instruments to become a full-time drummer. Advertisement
Around 1988, I started touring the USA and Europe as a drummer with art-rock and punk bands, mostly in the d.i.y. and underground circuits. I learned that I love to travel, meet people, and play music live. In 1993 I joined Brutal Truth. Even at that time, Brutal Truth was one of the most popular cult grind bands on Earache Records, though I had never heard of them. I met the BT guys through a friend on the sidewalk in front a show in New York City. They gave me a tape, and I learned a few songs, went to a few auditions, and was asked to join the band. I was attracted to playing in Brutal Truth because of their heavy and exotic touring schedule, and because the music was extreme and intense for me to play. I learned an entirely new style of drumming (grind/death/metal), helped Brutal Truth write and record a new CD, and left on my first tour of Europe with the band, all within three months of signing up.
For the next six years, BT played 250+ shows a year all over the USA, Canada, Europe, Japan, and Australia, and recorded three more CDs. Brutal Truth broke up in 1999, but I still had a fire burning inside of me: I started Total F**king Destruction so I could continue to tour and play extreme music, but also so that I could express my social and political views. (I'd been writing poetry and journals all along.) In Total F**king Destruction I am drummer and lead vocalist, and I also write the lyrics and much of the music.
TFD's third CD, Peace, Love And Total F**king Destruction, has just been released on Enucleation Records, and it's the best expression of the band's music and philosophy so far. Brutal Truth re-formed two years ago, and between the two bands, I've been quite busy touring, writing, and recording new music. Advertisement
I don't enjoy practicing–in fact, I hate it. But it's a necessary evil! I prefer to practice songs together with a band whenever possible, but that's often not the case. I have a small studio in the basement of my house, where I can play drums at all hours of the day or night. Usually I will take a set list for live shows or recordings to be made, and I'll run through it on drums while imagining the music in my head. I rarely practice with music or a click track in my headphones, unless I'm in the very early stages of learning songs that I'm completely unfamiliar with.
I've never had a drum lesson. I've always watched other drummers playing live and incorporated moves and patterns that I've picked up into my own playing. When I do practice on my own, I divide my time between playing freeform drum patterns and playing songs that I need to know for upcoming concerts or recordings. I always try to practice the way I would play live or in the studio: at the very edge of my physical and technical limits.
Regarding gear, I've always taken to heart what Buddy Rich used to say: "It's the drummer, not the drums!" In Brutal Truth I play a standard four-piece drumset; in Total F**king Destruction I use only a snare drum, a kick drum, hi-hats, a ride cymbal, and one crash cymbal. In either band I am usually traveling to play, so the set is rented or borrowed. However, I always travel with my Trick Pro 1-V double kick drum pedal and a Tama "Cask" piccolo snare. The Trick pedals made a huge impact on my playing, allowing me to play faster and longer with less work and stress on my knees. The Tama snare is a wooden piccolo. It's called a "Cask" snare because it's made of short staves of wood about ¾" think, as if you were to take a slice out of a barrel. This snare gives me a particular non—metallic sounding piccolo and also has a rim that sits almost even with the drumhead. Otherwise, I don't care what the make, model, or quality of drums provided, as long as you don't mind if I smash them up a bit! Advertisement
Buddy Rich, Gene Krupa, Keith Moon, and Dave Lombardo are a few of the drummers who've inspired me–and not just because they're amazing players and have a unique style all their own. It's also because they really live (or lived) through their music, putting their life, heart, and soul into playing the drums. For me, that's what it's all
about.
For more on Richard Hoak, Total F**king Destruction, and Brutal
Truth, go to www.myspace.com/totalfuckingdestruction, www.myspace.com/brutalfuckingtruth, or www.enucleationrecords.com. Photo by Scott Kinkade.