Kill Kill Kill's NaNa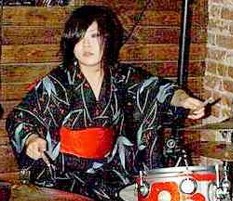 Konnichiwa, everybody! My name is Nanami (a.k.a. NaNa)! I'm from Kagoshima, Japan. I've moved to America to take over the US music scene! Ha ha ha! Just kidding! Well—maybe it's true!? I think US music scene is boring! Everything is about $. Anyway, I moved to LA when I was eighteen to pursue my career as an entertainer. I'm also doing a little bit of acting, too. But playing the drums has always been my passion! And of course fun! More than acting—.
My drummer life started when I was fifteen. I'd been playing the piano and the saxophone since I was a little kid. But a classic pop girl started turning into a hardcore rock girl when she first saw David Bowie. I really got into classic rock, like Bowie, Led Zeppelin, The Rolling Stones, and so on. So I didn't quit playing piano, but I decided to quit the lessons that I'd been taking for ten years. Then I tried guitar, but that didn't work for me. Then one day my mom suggested that I play the drums. I asked her why. She just said that I've got a nice groove. So I started taking drum lessons, as she suggested. Yup! My mom was right!! I got into it right away.
Luckily, I got a great teacher, Shigeki Okubo. He's an amazing drummer, producer, and composer. (I think he should write something here, not me.) Even as a person, he's amazing. Everybody loves him. Shigeki can play any kind of music. And when it comes to drums and music, he never stops learning. Of course, I can't play like him. And maybe his students are better than me. But he definitely influenced me a lot. That's why I'm still playing! He is one of my favorite drummers. Advertisement
Talking of my favorite drummers, I LOVE Bonzo! John Bonham's my best favorite drummer ever! If a time machine existed, I would definitely go back to '70s and meet Ziggy and Bonzo! I don't know what exactly attracts me, but Bonzo always blows my mind. Lately I really like Zac Starkey. I like his style more than his dad's or Keith Moon's. I think he's more edgy and solid. And also I love his looks. So British. Yum! 😉
Anyway, getting back to the story of my journey (I promise it'll be the last topic)—my band experience! I've tried a lot of bands–metal, industrial, punk, pop, indie—. None of them worked for me. I met Eric Stiner (Boy/Girl) a year ago through his Japanese friend Gaai, who's an amazing drum manufacturer. Gaai emailed me and said Eric's looking for "a Japanese female drummer." So picky—. But Eric recently told me he didn't say that. And I still don't know how Gaai found me. A chance encounter?
We started playing together soon after. Honestly, the first session was awful. I thought that it wouldn't work for me again. And besides, Eric was trying to make a noisy music that has non-traditional song structure, so he didn't want me to bring my style, which is very straightforward rock. It was definitely challenging for me. But I found out that my style works for this music. So I tried to mix our styles together and also challenge myself to find something new in my style. Then for some reason, it started working out. And we finally started a band called Kill Kill Kill, a heavy crazy (sort of) death-metal indie classic-rock band! I would say I'm trying to make this band as lovable as I can. Advertisement
Now Eric's doing a project in which he's collaborating with musicians (most of them are drummers), making a album every month for twelve months. So far he's released five albums, and I played the drums on two of them, Bear Hands and Under The Thumb Of A Squirrel. You can listen to them and download them at www.kxllkxllkxll.blogspot.com.
Lately, his friend and co-worker Kristin Kennedy(G) joined us, and we started playing some shows. We also played at KXLU 88.9 FM. We have more interesting collaborations and kick-ass shows coming! So check us out and stay tuned for more updates.
Anyway, thank you so much for reading this and supporting me! I will never make you bored! I promise! Don't forget to check my band Kill Kill Kill! And also check my myspace, www.myspace.com/nanamichan77.
Hey, America! NaNa's coming!! Advertisement
Love & Rock
NaNa:)