Drummer Blog: Joshua Dekaney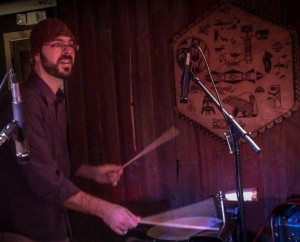 Grupo Pagán recently recorded an album with producer Jimmy Haslip (The Yellowjackets) in spacious JA Castle studios of Utica, New York. Save the World is fourteen original tracks including music by Haslip and Santana. Special guests feature Eric Marienthal on saxophone, reed-man Katisse Buckingham, Haslip on bass, Emedin Rivera on percussion, and Mikanic, a guitar, voice, and violin duet from South Africa. It was mixed by Rich Breen (Michael Jackson, Oregon, Norah Jones).
I play Afro-Cuban percussion and Frank Neubert plays drums. Our four-day session was a dream come true, and working with Jimmy Haslip was an education to say the least. The studio is an old Presbyterian church and features a main room with a 35-foot ceiling and hardwood floors. Needless to say I wanted to record as much percussion as possible in that gorgeous room.
The main tracking for the album was done with four of the band members in the main room and the congas enclosed by baffles on a stage. Bass and keyboards recorded direct, and our guitarist had his amp miked in an adjacent room. Having two thirds of the band in the same room was fundamental for eye contact and lyric lip-syncing. Our drummer, Frank, "The Linty One," recorded in a separate, adjoining room. We used a click for only a couple tunes and the rest were recorded live, as we are used to performing. Advertisement
The crown jewel of the session was getting to record Haslip's own tune "You Make Me Happy," a song he wrote in the mid-'80s. He thought it was a good fit for Grupo Pagán. The real treat was having Haslip himself play bass on the track. Just knowing that he was inside of our headphones had the whole band on their toes. Truly a dream come true for Grupo Pagán.
I am a longtime fan of Naná Vasconcellos and was able to record my own composition inspired by his film work "Vento Chamando Vento," or "Wind Calling Wind." Haslip was very encouraging and found a loop for me to play and sing over. It centered my pitch immediately. I started with Paiste accent and tuned gongs, followed by passes of bell strands, bull roarer, whistles, voice, congas, and repenique. What was originally intended to be a thirty-second interlude stretched to over four minutes. On Save The World it runs for two minutes, forty seconds. I'm most proud of the sound of the bull roarer, which was captured with two luscious, large-diaphragm Neumann mics. The title "10 Cycles" alludes to our ongoing conversations about the brown note; the sound produced at 10 Hz that is famed to cause individuals to soil their britches! What else was I supposed to call it?
"10 Cycles" was recorded at the end of our main tracking, and it gave Haslip a good three days to explore the depths of the Triton keyboard. Recalling a West African percussionist he once played with, Haslip found a very rhythmic loop and told me to play over it, in free and steady time. He chose the timbau, repenique, and caxixi for me to play, some of my favorite Brazilian instruments! We recorded almost three minutes, and it runs at a minute and a half for the album. All were recorded with two of those same Neumanns. This jam became known as "Bowling With Prince," recalling a night Haslip spent bowling with Fiona and the purple funk master! Advertisement
Many thanks to Modern Drummer for allowing the space to post this blog. I've been a reader since 1987. Peace, love, and God's blessings to all.
For more on Joshua Dekaney and Grupo Pagan, go to www.joshdekaney.com.