Frank Briggs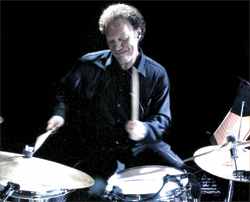 Best known for his top-selling instructional book/DVD, The Complete Modern Drum Set, LA-based drummer/educator Frank Briggs exposes his jazz-fusion roots on his first solo recording, China Ranch (frankbriggs.com). Briggs displays fat, loose, and powerful Tony Williams–style technique and tone on this outstanding recording. He's also recently recorded a new release, Circus Of Sound, with OHM, a Southern California–based progressive rock fusion trio featuring former Megadeth guitarist Chris Poland and bassist Robertino Pagliari.
OHM allows Briggs the freedom to stretch and explore, which he does tastefully and with attitude. A disciple of fusion music, Briggs studied with legendary jazz drummer Jack DeJohnette to help gain insight into this advanced musical art form. "Jack taught me that time was internal," states Briggs, "that how tightly you hold a stick can change your sound and feel, and that it's always about the music. After studying with Jack, I wanted to become a great musician, not just a great drummer–there is a difference."
Briggs composed all ten tracks on China Ranch and describes his drumming as supportive. "This recording is all about the music," he says. "There is plenty of blowing, but in essence, the drums play a supportive and featured role." Advertisement
Briggs' drumming reflects the feel and musicality of a seasoned veteran of electric jazz. His compositional style is highly influenced by his musical idols, which include Tony Williams, Herbie Hancock, Weather Report, and Pat Metheny. Regarding his composing, Briggs notes, "I 'use' the keyboards for composing but don't really play. I usually start with chord progressions, and I seldom rely on theory. I sometimes spend months composing a tune."
Briggs is well versed in many musical styles, and he explains how that aspect has shaped his career: "I think it's helped me develop my own voice more than anything else," he says. "I draw from a lot of different sources in music and drumming, which has made me who I am. That approach has certainly advanced my musical ideas."
Mike Haid
There's more to this article in the November 2008 issue of Modern Drummer, on sale now in print and digital.