Ryan Hoyle of Collective Soul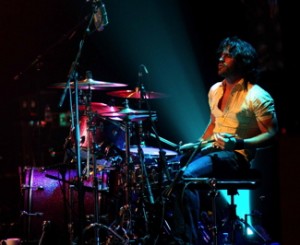 Ryan Hoyle knew deep in his heart at a very young age that he would make a living playing drums. Growing up, he dreamed of becoming a studio musician—which he successfully did, both in Nashville and in LA. It was while doing sessions in late 2003 that Hoyle was unexpectedly hired to record alternative rock band Collective Soul's album Youth. Ryan was pleasantly surprised to be asked to leave behind the studio career he'd been building, and hit the road with the top-selling band, replacing original drummer Shane Evans.
Today Hoyle's got two more records and countless shows with Collective Soul under his belt. These days the drummer is comfortably spending his time between living his dream as a "rock star" and a studio musician. In between a recent CS tour, he even managed to squeeze in a short tour with a childhood idol, Free, Bad Company, and Queen vocalist Paul Rodgers. That association resulted in the 2007 full-length live concert CD and DVD Live In Glasgow.
Ryan spoke with MD during the last leg of Collective Soul's summer tour with Blues Traveler and Live.
How did you hook up with Collective Soul? Were you a fan beforehand?
Yes. One of their records in particular, Dosage, just completely floored me. I'd heard their music throughout the years, from "Shine" to "December" to "World I Know." Dosage came out right after college, and I was so blown away by it. I remember I was so impressed with their records that I would try to learn every ghost note and hi-hat opening, really trying to get inside the songs. I've always had some sort of recording setup at home, and there were songs on Dosage where I recorded myself playing on top of the record, just for practice purposes. So that's how much of a fan I was. Advertisement
What were you doing right before the call?
I was in Nashville, and one thing led to another. I was pursuing session work and I got a call from a producer friend who said, "Dude, can you be in Atlanta in two weeks?" It came about from an earlier project that we had done. The lead singer was a good friend of Ed's and took his record to him and said, "Check out what we did." At the time Ed just asked, "Who's playing drums?" So we went up there for a weekend and tried a few things out.
What happened with their original drummer, Shane Evans?
That's a tough thing for me to comment on—I think it was a case of Shane's and the band's priorities going different ways. I think over the years, like with any relationship, sometimes band mates just grow apart.
Live, do you stick to Shane's parts?
Yes, I tend to because I was a huge fan of his. I loved Shane's drumming, so it's a pleasure for me to cop those parts.
The first Collective Soul album you played on was Youth, in 2004. You were basically hired as a studio drummer. But obviously, personality-wise, everyone clicked.
That's kind of how I describe it. I just came into the situation trying to keep a low profile. When someone comes into an existing band, it's touchy. So I just kept a low profile for a while. It started out as, Let's try a couple of tracks one weekend, and then the next thing I know it's a year later and the record is released. There was a little bit of touring that happened with Shane on that record, which was weird. I actually saw one of those shows, a big concert in Nashville. I had just come from recording the record. I was standing on the side of the stage, and I have to say that I thought he had improved all my parts a lot. I was like, Damn it, why didn't I think of that! He took the songs that I had recorded, learned them, and put his touch on them. I sat there and was blown away. Advertisement
What was the turning point when you felt like you were a member of the band?
That's a good question. Months and months had gone by, and friendships and relationships within the band were strong. I felt like I had a really good rapport with everybody; it was very natural, and we had fun together—it really clicked. They hadn't toured in three and a half years—there was a big break while some of these transitions were going on—so there was this energy like, We're back! That was a lot of fun to be a part of. I remember thinking, This could be for only three months or something, and I kind of braced myself for that, though in the back of my mind I thought, No, this is going to be what you make it. So I decided I was going to be in this band, and I just acted as if I was in the band. We're almost at five years together now.
After Youth we did the live DVD Home, with The Youth Orchestra. That was cool because I'd been playing live with them for two months, and here we were filming a DVD with a hundred twenty—piece orchestra. The reason I love that project is because I think it really showed the joy of a new lineup that was clicking and a band that was happy to be back. I'll always have that to look at, which is great, just a representation of that time. We were fresh and very happy.
The next thing we did was the Afterwards CD, which we released last August. That was done with one of my favorite producers, Anthony Resta.
Anthony worked with Duran Duran as well, didn't he?
Oh, yeah! And he actually played drums in Missing Persons after Terry Bozzio, a little-known fact I'm happy to share. He's a great drummer. I love Anthony. On this last record we had a meeting, and I spoke up: "I'd like to work with Anthony." Everybody just looked at me like, "Okay, cool, we'll let Ryan do drums at Anthony's." So they let me ship a bunch of gear up to Anthony's studio in Boston, and we spent about a week or so just doing drums. That was like the greatest week of my life. It went so well, and like I said, Anthony is this killer drummer! Advertisement
A lot of producers play drums.
I know, and I can understand why. Drummers have a front-row seat for things like arrangements. Drummers tend to excel at making arrangements interesting.