Patrick Keeler of The Raconteurs and The Greenhorns
by Patrick Berkery
"That's the hardest thing about being in this band; everybody's a damn drummer!"
Behind most supergroups, there's usually a fantastic drummer. Though in a supergroup setting, sometimes a fantastic drummer's talents get obscured by the star power of the outfit's more recognizable members. For proof, look no further than The Raconteurs' Patrick Keeler.
Keeler might not be the face and voice associated with the garage rock revival of the early '00s, like Jack White, or a hallowed name among power pop enthusiasts, like Brendan Benson. But without Keeler's drumming, The Raconteurs' underground spin on over-ground '60s and '70s rock wouldn't sound nearly as daring.
Take the shape-shifting, often schizophrenic arrangements on The Raconteurs' sophomore album, Consolers Of The Lonely. The violent clashes of disparate feels (like the jittery four-on-the-floor beat and Zep-like groove in "Solute Your Solution") and swaying undercurrents ("Carolina Drama") featured throughout the album hinge upon Keeler's alternately torrid and tumbling trap work. Advertisement
It's a tasteful yet explosive style Keeler honed as a member of The Greenhornes, the Cincinnati-based garage combo he formed out of high school–and still maintains–with Raconteurs bassist "Little" Jack Lawrence, and which he fine-tuned on records like Loretta Lynn's Jack White–produced Van Lear Rose in 2004 and The Raconteurs' 2006 debut, Broken Boy Soldiers.
And on Consolers, that style suggests limitless possibilities both for The Raconteurs and for their underrated dynamo of a drummer.
MD: Your drumming is tastefully unhinged, as if there was some formal training behind the madness. Was there?
Patrick: Yeah, I was taking drum lessons by the time I was about five or six. My brother was taking guitar or sax lessons or something and my mom asked, "Do you want to take any lessons"? I said, "Yeah, drums." That kind of came from my dad's brother being a drummer.
MD: Did you start on the pad and then graduate to the kit?
Patrick: It was more like a pillow and a pair of 2Bs to start with. I did that, along with the practice pad, for years before I got a snare drum or a kit or anything. Just working on my rudiments for a long time. Advertisement
MD: What kind of music were you gravitating to then?
Patrick: Whatever my dad was listening to, what I guess would be considered classic rock now. Lots of Led Zeppelin and Deep Purple, stuff like that.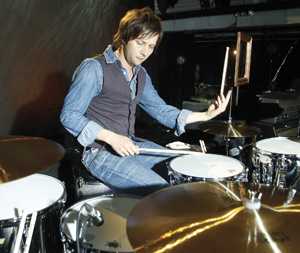 MD: What was your first kit?
Patrick: It's kind of weird, but my parents got me a nine-piece Tama, with two 24″ kick drums. I was about eight years old. And I immediately broke it down to four drums.
MD: You didn't have that beginner's desire to hit every single drum all at once?
Patrick: I think I did for a week, and then I realized I was just way too little for that. My mom's got some pretty funny pictures of me behind that thing.
MD: At what point did you start playing in bands?
Patrick: We had a massive marching band at our high school. And it was kind of a cool thing to do at our high school, to be in band. And the marching band used kids from the middle school, so I got into it then.
Once I got into high school, I got into stage band. And the band director had been in this classic rock cover band, so he had us doing Blood, Sweat & Tears stuff. It rocked. We had two drummers, a Fender Rhodes, lead guitar, and this massive horn section. And a couple of those guys actually ended up being in The Greenhornes with me.
MD: When you started gigging with The Greenhornes, you were doing the rustbelt club circuit and playing Detroit pretty regularly. Is that how you first crossed paths with The White Stripes and Brendan Benson? Advertisement
Patrick: Yeah. The Greenhornes were all from Indiana, but ended up playing together in Cincinnati. And once we started traveling, we were hitting Detroit pretty relentlessly, and ended up being on the scene when The White Stripes and all those other great bands were just starting to happen. Everyone was just really nice, and it was a cool time and a cool place to be playing music.
MD: So how did The Raconteurs form out of three separate things: The White Stripes, Brendan's solo career, and The Greenhornes?
Patrick: Jack White had brought Little Jack and me in to play on the Loretta Lynn record he produced. And Brendan had helped record a Greenhornes record. So it was a thing where we had talked about the four of us getting together and playing. And while we were up recording with Brendan, Jack was home, and they'd already worked on a couple of songs together. So it was basically, "Alright, let's try this."
See the rest of this interview in the October 2008 issue of Modern Drummer.