Amir Ziv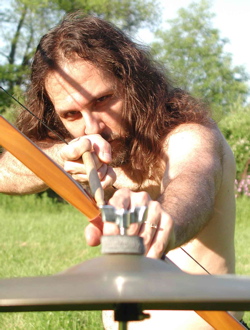 When MD managing editor Adam Budofsky suggested I write about my recent eight-day live-on-the-land drumming apprenticeship program, I realized this might be a great opportunity to think more deeply about what the concept of apprenticeship really means to me, and also give you guys an idea of what actually goes down in one of these intensives.
This past June, my wife, Meagan Lara Shapiro, and I held our second apprenticeship program in Kerhonkson, New York. As in the first one, we were able to host four student drummers hailing from the New York metropolitan area and Japan! The basic plan: to live together as a group and work in a very intensive way and at the highest level possible on our craft; at the same time, to allow the students to experience first-hand the inner workings of a professional artist's life.
Just as an example, here are some of the other things I was dealing with in the few free minutes I had during this intensive week: promoting a new Japanese release of my group KOTKOT; setting up an on-location recording for the CD release concert in NYC to take place on September 13 at the Abrons Art Center (see bottom for concert details); finalizing the editing of a documentary movie about my other group, Droid, with the director; working with a designer on a magazine ad; booking three concerts in the city for other projects of mine; initiating and following up on new artistic/industry connections; gathering up promo material for a publicist. Advertisement
Whenever the opportunity arose, I tried to share with the students what was going on for me and get them somehow involved if possible.
I wanted to focus on as much non-stylistic drumming material as possible, as to not impose my own stylistic preferences–not wanting to assume that just because I might be into working on Afro-Cuban grooves or orchestral sight-reading or rudimental drumming, etc., that anyone else is. The topics I chose were four-way coordination, technique, and a polyrhythmic ensemble.
Our daily schedule was as follows: 7:00 a.m.: wake up. 8:00 a.m.: breakfast. 9:00-11:00 a.m.: four-way coordination. 11:30 a.m.—1:30 p.m.: technique. 2:00—3:30 p.m.: lunch. 4:00—5:30 p.m.: art. 5:30—7:30 p.m.: Polyrhythmic Ensemble. 8:00 p.m.: dinner.
Here is a brief description of what the work and material consisted of:
Four-way coordination was divided into two areas. The first emphasized dynamics–getting all limbs to work together simultaneously in a melodic way while controlling the dynamics of each. The second focused on the melodic–working on building a basic vocabulary that you can then use to improvise simple melodies over another one, two, or three melodies. I have found the old saying that "if you can't sing it–you can't play it" to be almost always true, so my approach here was to first use the voice in different ways to learn the new material, and then add drumming to the voice. The drumset is a four-way coordination instrument. We utilize four-way coordination in almost anything we play on it. The continued deepening of this skill will serve your playing in ANY style. As is the case with— Advertisement
Technique: The primary focus here was on natural body motion and the study of rebound. When you start realizing how your body is involved in the motion and music BETWEEN the notes, you very quickly begin to see the connection between our physical motion and how it affects our sound, time, and feel.
Polyrhythms are one of the main building blocks of drumming, but can be hard to really apply in your own playing unless you know (can hear) their two independent melodies as well as their combined counterpoint melody. To demystify this topic (which too often is made overly complicated), the students and I co-composed, orchestrated, rehearsed, and finally recorded a percussion piece. The goal was for everyone to hear the polyrhythmic material in a very musical context right from the beginning.
Our vision for this apprenticeship is for it to become a multi-disciplinary program, where artists from different fields (dance, art, music, cinema, etc.) can go through the program simultaneously and, while intensely focusing on their particular craft, cross-pollinate and feed off of the other art forms. Meagan Lara Shapiro is a visual artist who is interested in tapping the energy within the ritual aspect of making art. She led the art sessions with the drummers. Students were guided to find parallels between sound and vibration with color and form. They did this by attuning to and collecting sounds from the external world and their bodies' vibrations. They then made paintings of their discoveries, translating their sound compositions into "compositions" of color and form. By deepening these new channels of perception and expression, the drummers discovered new ways of hearing, notating music, and "seeing" dimensions of sound that might have been invisible to them beforehand. Advertisement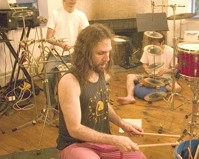 We have planned for the next apprenticeship program to bring in an Aikido (Japanese martial art form) master to work with a small group of Aikido students. Aikido, like drumming, incorporates the study of stick manipulation, but on a more macro scale–the sword. To practice this they use a large wooden stick, and the motions and techniques for the body are very similar in both art forms. My friends and I who are deep into Aikido constantly teach and show each other what we do and learn a little more every time.
Meagan and I provided all the meals, but we did everything together with the students: cooking, preparations, setting up, cleaning, a few chores. Our barn-house is situated on seven acres in the Catskills, with a river and an old coal-mining path just a minute walk across the field, so you really have all the elements to help you feel like you are literally living on the land. Everyone brought tents and set up in the field out back, near our fire pit; every night we made a fire and sat around talking, processing, and unwinding.
What is the value of the master/apprentice relationship? I remember when I was fourteen, starting to give drum lessons to kids in my neighborhood and feeling like the "master" who was able to effortlessly do what these kids came to learn. BUT—I also remember going within a couple of days to MY drum teacher/master to study how HE effortlessly did what I could not yet do. So "mastery" is both relative and infinite. I guess for me the concept of "apprenticing" means going farther and deeper in your relationship with a teacher than mere lessons ordinarily allow—to get as close to and personal with your teacher and the craft/art that you are pursuing as possible, and to experience first-hand one way in which it's done in the real world—to get "inside" it. Advertisement
I was attracted to this concept from an early age, but opportunities did not just come to me: I had to carve them out for myself. It started when I was ten in North Carolina: I was never satisfied with just the one-hour lessons with my teacher, and I tried every which way to spend as much extra time around him as I could. Five years later, as a fifteen-year-old in Israel, I did the same thing again, but even more intensely–going to shows with my teacher, helping move gear, sitting in on rehearsals, hanging out at his home and observing and observing and observing. After this, it happened on a higher level when I moved from Israel to LA to study with drumming master Efrain Toro.
The same happened even more intensely when I moved to NYC and moved in with master drummer Kenwood Dennard (Jaco Pastorius, Sting) for almost two years. Now you're talking! This was the kind of "apprenticeship" I was going for. Of course, Mr. Dennard was not advertising anywhere, "Searching For Apprentice"; I had to set it in motion. Once I did so, though, he recognized and supported my efforts. Beautiful!
Other experiences have been an apprenticeship for me as well. For instance, being on the road with percussionist Cyro Baptista for eight years all over the world was a BIG apprenticeship. Being on the road IS living together, where you get to learn and experience ALL aspects of the game, not just playing the gig: travel, with all its challenges—band discipline—dealing with venue promoters, tour managers, and press—going on no sleep—going on no food—competing egos—rehearsals—dealing with the crew (yes, THE CREW–making friends quickly with this breed is EXTREMELY important, as they can make life heaven or hell for you because they are the ones who really "own" the stage)—and creating a performance onstage each night. Of course, though, once you hit that first down beat, all bets are off and all I want to do is experience that beautiful moment for what it is. Advertisement
So what am I trying to say with all this is, whatever your interest, wherever your passion lies, do something more than "the norm." Taking the extra step DOES make a difference. Create an apprenticeship for yourself or for another, and strive to make every day a day of mastery.
For more info about Amir Ziv, go to www.myspace.com/amirziv, www.myspace.com/kotkotkot, or www.myspace.com/droidfactory.