Eric Kretz Update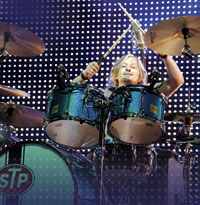 Since Stone Temple Pilots disbanded five years ago, Scott Weiland (Velvet Revolver), and the DeLeo brothers Robert and Dean (Army Of Anyone, among other projects) have made plenty of noise on their own. As for drummer Eric Kretz, he's been helping others make noise–first with Bomb Shelter, the Los Angeles recording studio he opened in 2004, then with a gig as music supervisor for The Henry Rollins Show on IFC, where he's recorded performances by everyone from Radiohead to Slayer.
The two gigs keep Kretz busy. So busy, in fact, that when STP needed a rehearsal spot for their reunion tour, the drummer couldn't even accommodate his own band: Bomb Shelter was booked solid. "I couldn't even use my own place," Kretz laughs when recalling the "very natural" circumstances behind the STP reunion.
"Basically, we all got to talking individually, and it felt like the right thing to do. It'd been enough time. Two years ago…well…I just wasn't excited about it then."
While Weiland and the DeLeos kept their chops sharp through steady recording and touring, drumming had taken a back seat for Kretz, as the responsibilities of his studio and becoming a first-time father took priority. So Kretz returned to the kit–and some of his favorite records–to get back into shape rhythmically, physically, and mentally. Advertisement
"Playing every day again helped," Kretz admits. "Oddly enough, I went back to what I used to do in high school. I really got back into Rush, King Crimson, and Yes–all the prog stuff–to get the brain fired up again…the different time signatures, and the art of memorizing these different parts intensely. I did that for about a month, and then we jumped into rehearsals."
Patrick Berkery
This is an excerpt from the article that appeared in the September 2008 issue of Modern Drummer.