Donnie Yal of the Sammies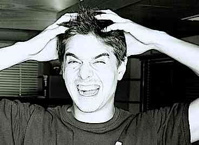 I, as you can read above, am Donnie Yale. I play drums in the NC band The Sammies. (NC is better b/c we are on top for all of you reading this in SC). Our sophomore album, Sandwich, is set for release on September 23. Our hometown label, MoRisen, is putting this album out along with Mum Records. I had an awesome experience recording it in the AMAZING Fidelitorium in Kernersville, NC, owned by producer/artist Mitch Easter (R.E.M./Wilco/Let's Active). The album was produced by the wonderful Ben Holst (Drive By Truckers/R.E.M.) as well as the ever-cool Billy Bennett (The Whigs/Kumero/UGA field goal kicker), and last but not least The Sammies.
My love for the drums began when I first got to pound away on my biological brother Frank Backgammon's Ludwig snare drum. (Frank is the guitarist/lead singer in The Sammies.) I soon moved on to a Tama Rockstar. This kit is amazing for the price! In fact, I still play the Tama and it sounds as good as it did when I got it in 1997. The kit I play now is a 1963 Ludwig Blue Oyster Pearl that I snagged from someone's attic for a meager $400 Bensons. Now, this drumset is amazing! It's the same kit Ringo and many other drummers from that era played (minus updated snare–the original is the most recorded snare of all time, but I play a Pork Pie Big Black Brass). The next set I have my eyes on is an acrylic kit. I used one on the new record and fell in love. I'm the Don Henley/Phil Collins/Ugly Kid Joe drummer guy as well; in other words I sing lead on some songs while I play. After recording our new album, I discovered that piecing together drumsets can sometimes lead to a great sound. You can have the kick, snare, toms, and cymbals that you like the best. It's what makes you—you.
Not only do I love music and everything that is involved, but I also love sports. In fact, before I was a drummer I played basketball, football, baseball, golf, soccer–you name it, I've played it and enjoyed it. It was not until I began to play in a band that I began to realize the HUGE comparison between music and sports. In order to be a great sports star, the one important thing you have got to do is PRACTICE. Next comes staying fit, watching film, and being mentally tough. It's the same basic principals that I apply to my career as a drummer. Advertisement
I have several heroes when it comes to music. My favorite and top drummers ever are, in order, as follows.
1. Gene Krupa
2. John Bonham
3. Keith Moon
4. Dave Grohl
5. Tré Cool
The list of drummers goes on and on. However, my biggest hero is Steve Smith, WR of the Carolina Panthers. If you look at Steve you can tell he is an amazing player/athlete. However, there are those times when even Steve will drop a pass. If you're a drummer, guitarist, singer, etc., you're going to do the same thing as well. No, you won't drop a pass, but you might play a song too fast, bust a snare, or even get injured. The best thing to do is to shake it off and get them next time. If you have one bad show, don't give up. Even the best sports teams sometimes show up for a game and nothing clicks. When this occurs, take that experience and learn from it.
I would like to thank Modern Drummer for the opportunity to write my thoughts as well as be a part of a drummer community that I've always admired. Please be sure to come see The Sammies (Frank, Bobby, Conrad, and Donnie) in a town near you soon. Check us out at www.the-sammies.com. Also feel free to e-mail me at donnie@the-sammies.com.
God bless, and remember: I'll eat anything you want me to eat, I'll swoller anything you want me to swoller, so come down, chew on a dog. WOOOOOOOOOOOOOO.
Check this link for new information regarding drummers being athletes: http://news.bbc.co.uk/2/hi/health/7518888.stm.
Donnie Yale
Photo by Enid Valu.