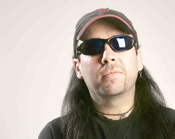 When we arrived at the first show for the Rockstar Energy Drink Festival, I was pleasantly surprised by the beautiful Birch/Bubinga Starclassic set that Tama had so kindly sent me. I was like a kid at Christmas as I set it free from its cardboard hell–especially when I discovered it was a fantastic silver-to-black sparkle fade finish! I turned to my tech and said, "No feckin local hands are touching this! Get your polishing rags out, my man!" Garnished with some Paiste Alpha finery with a side of Roland TD-20, we were ready to dine on a menu of metal, fueled with booze and under the watchful eye and mothering bosom of our new massive backdrop. (You gotta see it!)
For this tour, I'm using in-ear monitoring for the first time ever live. I was quite nervous about how this would pan out. But with the expertise of Big "Bucket-O-Fish" Dave, our monitor man, it sounded awesome. Our set is the strongest yet–we're playing practically all my favorites, including "Heroes Of Our Time" from the new album, Ultra Beatdown.
So with intro rolling, I casually saunter onto the stage in front of 10,000 smiling faces, climb onto my riser (it's 4′ tall, I'm 5′ 6″, and there is no bloody step!), and we begin our usual chaotic show, with Herman and Sam running around like headless chickens and the rest striking rock star poses.
It was an awesome first show, and I couldn't have wished for a better performance from all of us. With the show done and dusted, we all head for the after-show, where there was much consumption of beverages and buffoonery. I didn't see my tech Stuart there; for some reason apparently someone took him out the night before and forced booze on him all night, transforming him from his usual calm self into the full-on karaoke queen that he really is!
So I find myself six shows into this 29-show run, I can't believe how well this tour is organized, with all crew being completely professional, catching up with friends from all over the globe, enjoying some great new bands, and of course the meet-and-greets are always a good laugh. I'd like to thank all our crew, especially Stuart (the yodeling turkey), for helping me with this Blog, as I've had a few ales.
Cheers!
For more on Dave Mackintosh and Dragonforce, go to www.dragonforce.com.