Bradlee Dean of Junkyard Prophet The Reason for Drumming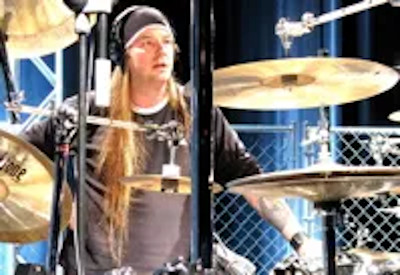 At the moment I'm literally trying to figure out how to do everything that I see needs to be done. There are always a thousand things going on in my mind. But now I'd like to unwind and take a minute to express the reason I play drums in the first place.
After many years of playing bars, clubs, and the like, I've tried to put the drums down, but God keeps bringing them back to me for a reason. I use the drums as a way to relate with this generation, because nothing does it better than MUSIC.
I like it funky, loud, and fast. My musical influences range from Metal Church, Jane's Addiction, and TNT to Grandmaster Flash & The Furious Five. When I was young, I always had a huge desire to play the drums, and after working at a local gas station for a year, I saved my money to purchase a drumkit. The rest is history. I took lessons from Gordy Knudtson of The Steve Miller Band, but the majority of my playing abilities were self-taught. Advertisement
I'm honored to endorse gear by Sonor, Buttkicker, Hornet drumsticks, Beatnik, Soultone, and Gibraltar–companies that have entrusted me to faithfully and successfully endorse their products.
Besides being a drummer, I'm the founding overseer of You Can Run But You Cannot Hide International, a ministry that has reached over 1,500,000 people nationwide through high school assembly programs, detention centers, churches, radio, prisons, festivals, and outreaches. I've authored three publications: Grass Doesn't Work—The Rocks Do!, Man Of War, and Showing America The Price Of Freedom. I host a radio broadcast in Minneapolis, Minnesota that airs weekly on AM 980 KKMS, I write a nationally circulated newsletter, and I'm the drummer for the band Junkyard Prophet.
Junkyard Prophet is more than just a catchy title. I feel that the world is a junkyard that needs to be cleaned up in the best of ways. The image of the band is not all about the accolades of the "rock star" reaching thousands upon thousands of kids, or the "do-gooder" type thing; the whole Prophets camp is about our message first, then the music, which takes on a life of its own when we hit the stage. After each performance, I will take time out to talk with the kids about the problems they might be facing and how they can overcome them, dealing with topics ranging from drugs and teen pregnancy to suicide.
Growing up as a fatherless kid, I was always searching for acceptance and security, and I went through "the school of hard knocks" to find out where hope and truth really lay. Rather than dwell on my trials and experiences and feel sorry for myself, I simply turned them into an overcoming experience, and now I help bring kids out of the darkness I once walked in. I truly love these kids, because I know what it's like to be one of them. I also bring them hope, and this is it: Just as we have veterans of war in this country who died to uphold our liberties, we have Christ, whose suffering, death, and resurrection uphold life and hope for every one of us. Advertisement
I'm giving away an entire drumset, cymbal package, and cage with hardware in a contest sponsored by Modern Drummer magazine in their September and October issues. I've also just finished a drum instructional video; you can check out the preview here. www.youtube.com/watch?v=hQlinAEvimU Enjoy!
Bradlee Dean
1 John 3:18 "Love is Demonstration"

For more on Bradlee Dean, go to www.junkyardprophet.com.