Paul Rucker of Street Dogs
Paul Rucker of  Street Dogs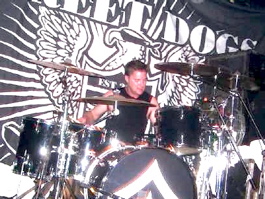 So in case you just got here, here's the story so far. Started on a practice pad at ten learning Haskell W. Harr and Stick Control from Stan Pappas at the mall music store, which sold records as well as instruments and housed a small number of practice cubicles for students. Once there was enough proof to the parents that I was serious, they got me a silver sparkle Ludwig kit from Bobby's on Broadway in Denver. Played in every school band there was until college drumline cured me of school bands. Played my first show the night of my fourteenth birthday, and been in too many bands that no one remembers. Stole from Tommy Lee, Vinny Appice, Nicko, Bonham, Stevenson, etc— Toured in a series of disposable $1,000 vans and learned how to be unemployed until bartending taught me to drink and get paid. Rock bands, metal bands, punk rock bands, country bands, country rock bands, and then light it all on fire and move to LA to become blissfully anonymous. Get job in Hollywood and retire to the world of beer-driven bands that practice after work and never play shows or wear makeup. Maybe one day my friend will call on my way to work and ask me to go on tour, but I wasn't holding my breath–until it happened. So I go on tour with a bunch of strangers that become my family over time and learn how to live at 70 miles an hour all over again. The shows are bigger than ever and the living gets better all the time. Totally weird. Is it okay to be stoked? The answer is yes. We now join our story in progress.
Had the most crazy couple of weeks, man. Played last night with my old band Armchair Martian in Denver, and people actually came to see a band that I thought was extinct. Playing the theater I used to tend bar at tonight in Ft. Collins—if it's anything like last night it's gonna be a batshit crazy blur of hugs and handshakes. The band started here in '94, and after I moved a couple years ago I haven't really been back. This town is awesome to visit and a great place to leave behind, all at once. The Blasting Room is here, and without that place the scene here would completely drift into Dave Matthews frat-band purgatory. But it is great to see my friends again and all the other people I don't remember anymore. Who are you? Who am I? Why am I here? Who are you again? Who am I? Etc.—
Just before I got to Colorado, The Street Dogs played this radio-sponsored concert in Boston that Stone Temple Pilots headlined. The band has always played festivals, but I was new to the whole deal until we played Reading last year; somehow I'm still alive. So now I kinda get it that it's always kinda weird but fun and cool to see bands you wouldn't normally. I watched Everlast play from the side and he was cool; very nice, good band. The brothers from the Pilots were wandering around on the side and playing with their kids, that was nice. But when it was time, the backstage went into lockdown and security threw everyone out, so we went out and watched from the crowd. Crazy light show, whatever that guy is, solid band, soundtrack to the '90s, a bunch of drunken Bostonians, it was fun. Oh yeah, Pennywise played. Advertisement
The day after the show we had a video shoot. We all live in separate places, so it was the only time we were gonna be together until the Warped Tour. Shot in a house in Malden, Mass by a guy who had just made a Meshuggah mini movie. Rad. My first time as "talent" in a video shoot. I started working as a set dresser for E! when I moved to LA, so I'm usually on the other side of the shot. It was fun and the crew was way better than I anticipated. I thought we were gonna have somebody's cousin shooting and directing and running the smoke machine in a garage. The producer, Ian, is a friend of Johnny's, and he was painless and totally easy to work with. We started with pads on the drums, but when it was apparent it wasn't working he was the first to tell me to just play them for real and screw the noise, we'll turn the playback up and rock. Nice. They shot in HD, and I saw some of the shots in the monitor. It looked pretty sweet. There was a fog wrangler, and the catering was lovely. The upstairs neighbors that lived in the house we were using were hanging out and bar-b-q'n lamb lollipops that were freakin' awesome. The guy who owned the house was a serious individual who had recorded most or all of the Slapshot records and had a studio, rehearsal room, and subterranean Greek disco all spread out in this huge old house. Thanks for the drums, John, they looked great. After that we went to Johnny's parents for some love and then to Portsmouth, NH for some chowder at the Stock Pot.
Planes, trains, automobiles, and a sweet backache all converge in a massive travel race to always just get there in time to eat something terrible and expensive. Then when you finally get on the fourth plane in three days and it has to land at a tiny airport because it doesn't have enough fuel to keep circling the wind-closed runway of the main airport 70 miles away, do you curse or still be stoked at the situation? Days later the answer is yes, but at the time, the answer was medication and an insane Colorado sunset. So we have one more show tonight, with the old bands I should say. The band Armchair evolved into Drag The River, made an effort with the old classic first lineup. Played about six and a half songs and it was a beautiful mess after a whole night of crazy brodeo party. Tonight I think most people are gonna be too hungover to get too drunk, and we might not suck as bad. Oh, well, it will be fun for sure.
Oh yeah, I just got the call yesterday from Pacific Drums that they're gonna bring me on as a player and I'm getting a new kit for Warped Tour. Stoked. Been playing my same Yamaha kit since high school, and it is time to retire it before it gets too beat. I love that kit and it has been through a lot with me, so it goes in the museum when I figure out where that is. I had a chance to figure out a lot lately, and keep meeting new people that change my outlook for the better. I'm just trying to have fun and be a better person that enjoys life. I spent too much time being bored because I thought that was all there is. It just took some amount of craziness to jump off the dock into the insanity of nothing for me to find out what I really am. I'm just the drummer man. The best part is that people will eventually leave you alone if you act crazy enough. I'm sure my band has taken pools on when I finally crack, but I think I might surprise them and outlast them all. Advertisement